India's rich culture provides a lot of choices for colourful and vibrant interior designs. There are also many options if you want to embellish your home with minimal interior designs. Changing your home to use minimal yet functional interior designs can also give it a touch of traditional Indian culture. You can use the art of minimalism by removing clutter and bulky furniture to show simplicity and spareness.
Here are the top 6 interior design ideas from the Design Qandy team that will give your home a beautiful style and relaxing feel. Minimalist interior design is more than just plain furniture and monochromatic colours – it can complement any home colour palette or design motif with the right professional support. Let's have a look at the first tip.
1. Get Rid of Clutter
The first rule of minimalism is to get rid of the excess clutter that is not vibing with your living space. Decorating your living space with unnecessary furniture or objects would not be a good idea as it would make the space smaller and harder to utilise. Give yourself room to breathe so it can be an adequate and peaceful environment for you to live in. Less is more, so decorate your living space with furniture or things that are essential and functional. Utilitarianism is the new name of pro minimalism.
Get rid of all the clutter and fill your room with things that contribute to your daily life. You can space out objects or antique pieces to provide more space to work, play, or relax. Moreover, you can simplify the visuals by opting for only one large art frame on a bare wall instead of making it a gallery wall. You could also give a minimal look to the floor of your minimalist living room by embellishing it with neutral rugs instead of large patterns or floral rugs. For true purity, you can opt for no covering for the floor at all.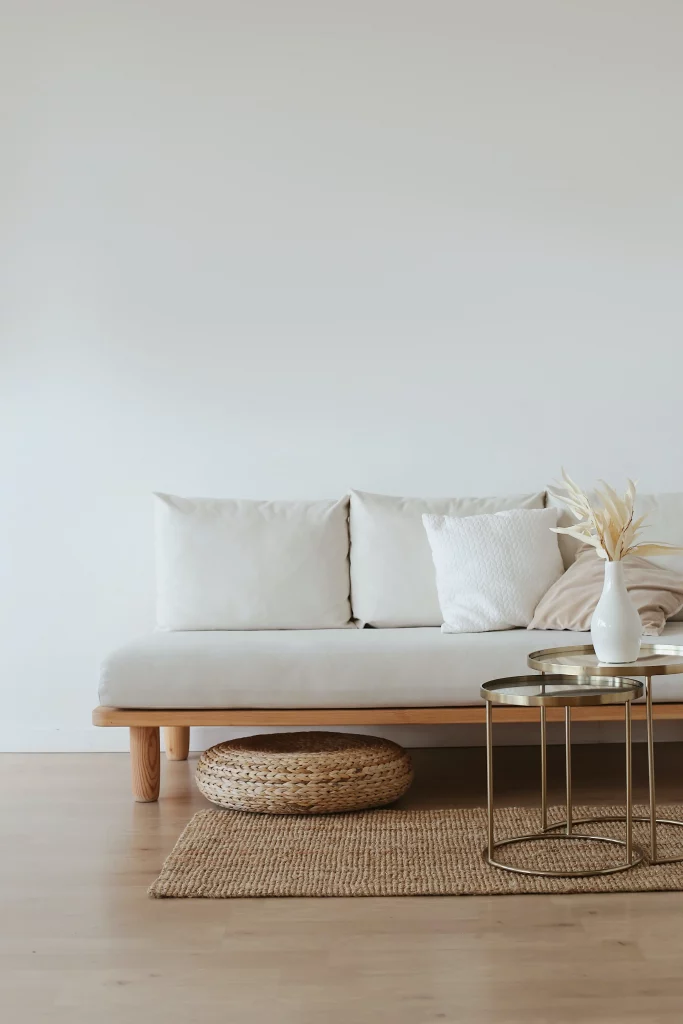 2. Embellish Your Space with Wood Furniture
Solid wood objects and furniture have always been important elements in Indian interior designs. For the Indian yet minimalistic touch, you can choose wood furniture from the large variety in India. India has mind-blowing talent in hand craftsmanship and offers unique and elegant wood furniture. Use sleek wooden furniture with Indian design elements like curved legs and armrests. These beautiful pieces will complement your home's style without adding clutter.
There are also beautiful pieces of wood furniture that include metal or ivory in ornate designs. For your living room where you can sit with your family to spend quality time, you can decorate it with different sittings like a wooden sofa or footstool. Moreover, daiwan (a long backless sofa) or jhoola (swing) would be a good addition to your home and gives your space warm and playful energy.
3. Add Houseplants to Your Home
Houseplants can positively influence your mood and energy. We are big fans of house plants at Design Qandy, and many of our clients end up finding an indoor garden design that they fall in love with. If you are dealing with some stress and anxiety houseplants would be your knight in shining armour. Moreover, they are the best choice when decorating your house with the idea of minimal interior designs. Houseplants are the primary sources for making your place aesthetically pleasing.
You can use houseplants as a living art that brings life and colour to your space. Indoor houseplants are in demand as many people have added them to their home interior. They come in a large variety of different sizes, colours, and textures. The intricate details of plants would go best with a minimalistic home interior. You can create a focal point by putting the indoor plant in the right position. Hanging plants on a balcony or up high in your living spaces is another great way to save floor and counter space.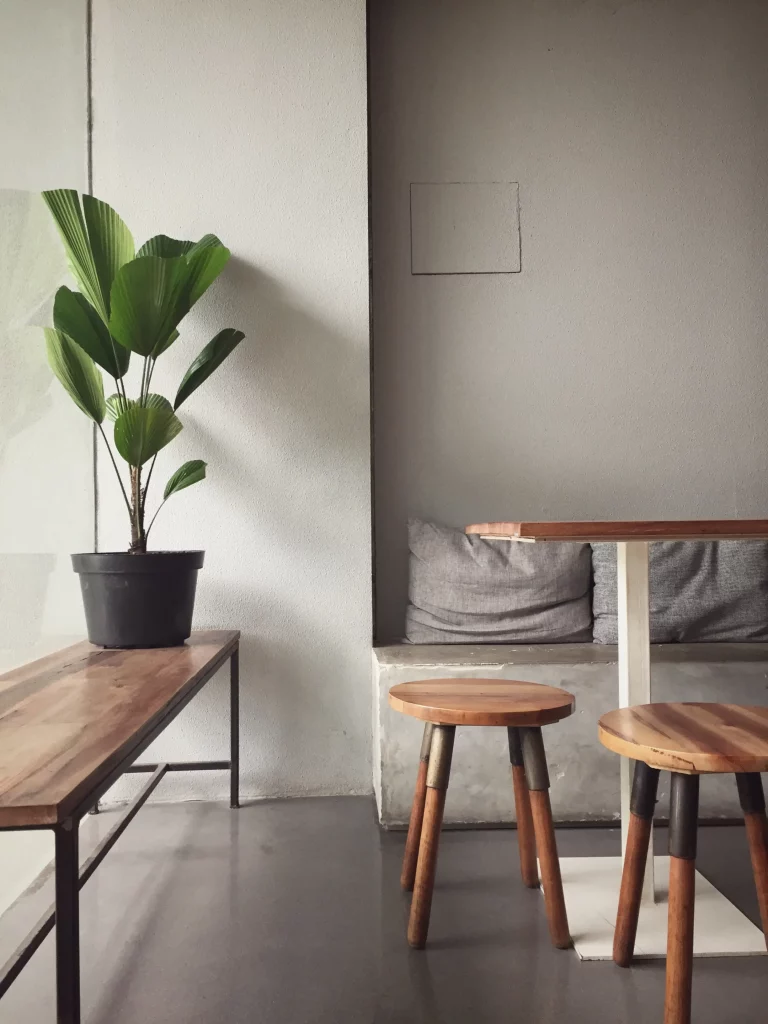 4. Experiment with Texture and Colours
To level up your home interior according to minimalistic interiors you can play with different minimalist textures and colours. Many minimalists even love colourful interiors and bright colour palettes in their homes. Minimalism often uses neutral and light colours like white, pastel, and grey, but anything is possible with some planning.
No doubt neutral colours can be a good choice for a minimalist home interior but sometimes you want a more vivid option. You don't have to choose only neutral colours – use some warmer colours that complement your home's colour palette will give the room warmth and life without dominating the minimalist interior.
If you want to do something different than a conventional minimalist interior. You can opt for a rustic brick cladding wall with neutral colour furniture. To ensure the minimalist look of the room, go for only essential yet functional furniture. It would be an unconventional and unusual minimalistic interior theme for your house.
5. Setup Proper Lighting
For the minimalist home interior setting up good lighting is essential so your home doesn't feel expressionless and plain. You should opt for a lighting system that adds character to the minimalistic theme and vibe with it. For the minimalist home interior, pendant lights or floor lamps are the ideal choices. Moreover, you can also think of streamlined lightning that is built-in ceilings or walls. The choice of light colours also plays an integral part, as the yellow light colour would warm up the living space while white light brings your living to life by brightening it up.
If you have a window in your living space it would be better to leave it unvarnished so it can allow the light to be let in the room. You can also use a thin neutral colour curtain as it will go well with a minimalist lifestyle.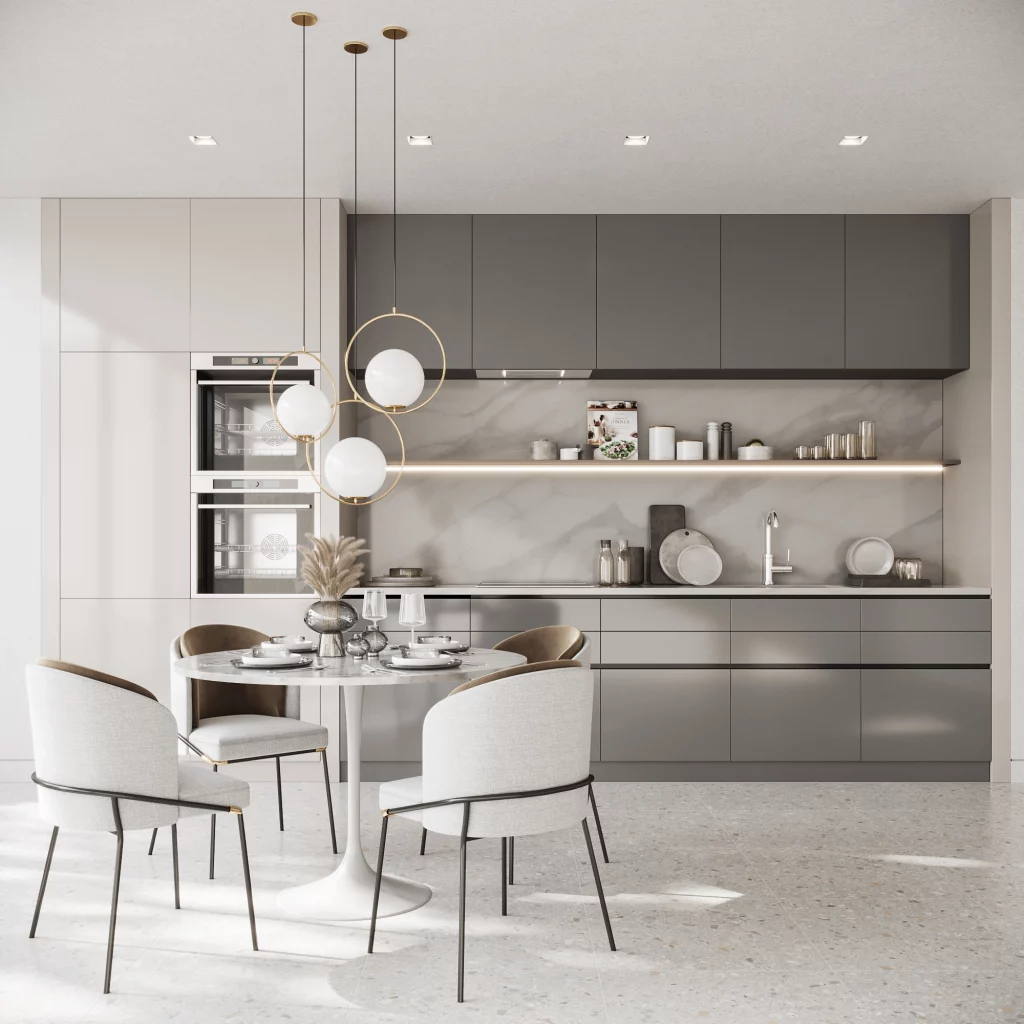 6. Make Use of Accent Decorations
Incorporating accent elements into your living space smartly will make your interior stand out. Accent decorations have always been an integral element when it comes to minimal interiors. You can decorate your living space with multifarious elements, decor lights, and beautiful fixtures in your minimalist home interior. You can also decorate your room with sleek brass (metallic) accents instead of bulky metallic artefacts.
Get Started Today
Minimalist home interior is about decorating your home with essential and functional things without going overboard with colours or furniture. You can experiment with options for your tasteful, yet functional home – or you can work with the team of internationally trained interior design professionals at Design Qandy.
Give us a call at +91 96196 54321 or send us a message. The Design Qandy Style Test is also an excellent starting point for making a plan for your home decoration project.