Creating an indoor garden can be useful in so many ways. Caring for a garden promotes a healthy lifestyle, and research has shown that having houseplants can boost creativity and productivity. So, not only will your indoor garden add to your home's interior design, you can relieve stress by tending to your plants. Plants are also a great way to simply bring some positive energy and beautiful colours into your home. Here are the Design Qandy team's tips for starting an indoor garden.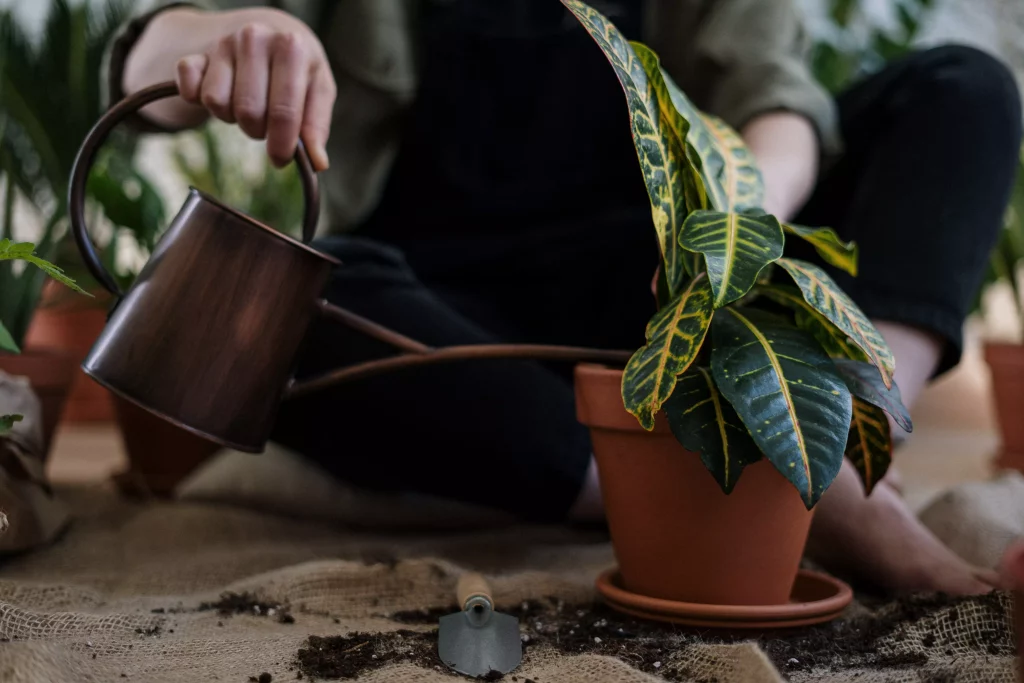 Perfect Weather and Long Days
Just like when you chose where to live, finding the right location for your indoor garden is a critical part of the process. Each type of plant and style of indoor garden will have its own requirements. As you begin to choose more ambitious designs or delicate plants, you will need to research more about how to care for your indoor garden.
Here are the fundamental factors to keep in mind while choosing the right spot to build an exquisite indoor garden. Keep in mind that you can also choose a spot in your home and work with a professional designer or horticultural expert to determine the best plant species to use there.
Examining Sunlight Availability or Installing Light Fixtures
In order to make sure that your indoor garden receives ample light, select a spot under a skylight or next to large windows. If you do not have easy access to enough natural light, choosing low-light houseplants or adding grow lights are two great options. Specialised lights are available for growing plants, and there are many efficient LED models that will not disturb your home's style. Too much exposure to light or heat can scorch the leaves, so be careful not to overdo it.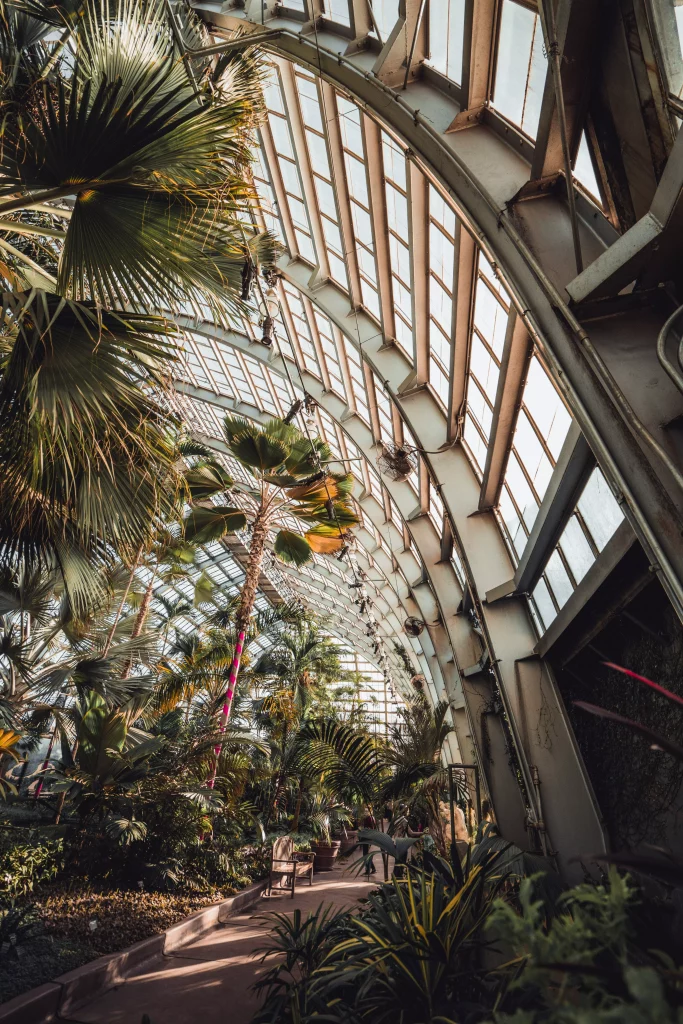 Temperature and Humidity Concerns
The majority of house plants are sturdy enough to withstand a broad range of temperatures. There is only a risk if there is a sudden drop of more than 5°C in the temperature. Pick an area of the house where the temperature doesn't fluctuate much. Kitchens, for example, can vary wildly in their temperatures during cooking.
Plants will also need to be matched to parts of the home with suitable humidity. Bathrooms and basements tend to be too damp for most standard houseplants. Especially if you decide to grow herbs or other edible plants, monitoring the humidity levels is important – excess moisture can quickly lead to rot. Keep in mind that watering plants will always raise the humidity of any room where you build your indoor garden.
Choosing the Right Plants for Your Indoor Garden
Any plant can be grown indoors with enough botanical knowledge and equipment. While a gardening or plant care professional can help you find the best options, many plants are suitable for an indoor garden. The biggest initial decision will be related to the purpose you want your new garden to fulfill.
Incredible, Edible Plants
There has been a recent boom in growing herbs indoors. With just a little bit of love and care, you can enjoy herbs like cilantro, thyme, and basil all year round. Herbs require proper drainage so pick a planter carefully. Edible flowers can also be a great member for your indoor garden. Other than being a new addition to your salad, they add beauty to your garden. There is a wide range of colourful edible plants to choose from such as violets, chives, and cornflowers. If you have enough space and sunlight, many dwarf varietals of fruits and vegetables can be grown in containers. Add a lime tree or your favorite type of hot pepper to an indoor garden for fresh garnishes and spices, right in your home.
Ornamental Plants for Interior Decoration
Both flowering and nonflowering plants are great accessories for decorating your house. The main purpose of these plants is to enhance your home's style, so it is time to get creative. Match the foliage or flowers to your home's colour palette to help create a continuous flow through your home and garden.
Exotic Additions to Your Home
If you are looking to add a touch of elegance to your home, orchids are a great choice – their delicate beauty will show your dedication. Carnivorous plants such as a pitcher plant or the venus flytrap make a powerful statement. Air plants are a modern solution for your indoor garden and are very low maintenance. These exotic plants look right at home in a tropical-themed room.
Styles of Indoor Gardens for Different Interior Designs
Here are some popular ways to incorporate a garden or extensive houseplants into your home's interior decoration. If you are designing a new home, you can create some truly exquisite and luxurious indoor gardens by adjusting your architecture or room fixtures.
Try a Small, Sunny Window Garden
Before committing to the installation and upkeep of a large garden, you can start with a window garden. Leafy herbs, flowers, or tropical plants are popular choices for window gardens, because they all love getting plenty of sunlight each day. Window gardens are easy to access and modify, so the maintenance process is painless. You can easily try out a window box, planters on shelves, or beautiful hanging plants.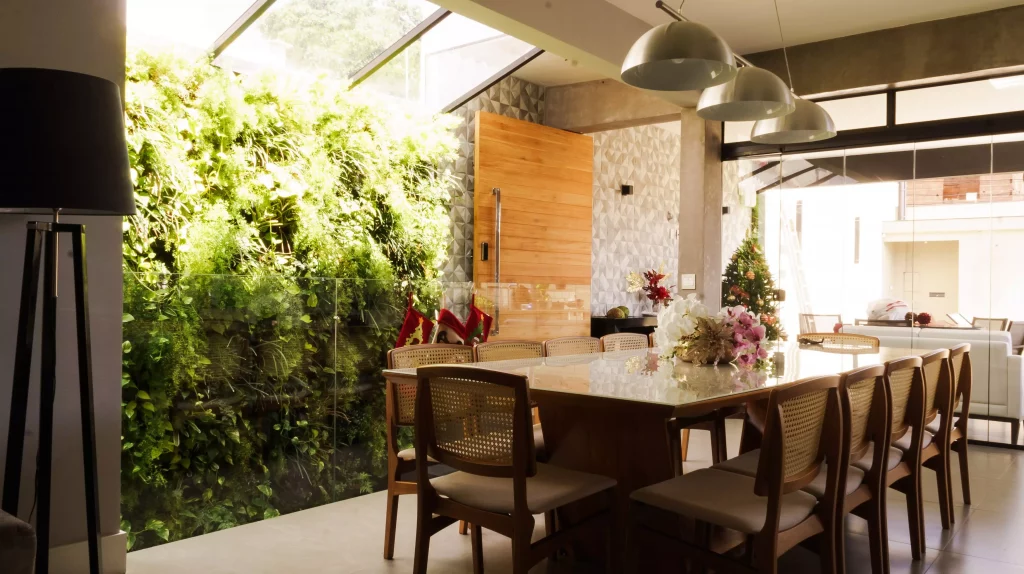 Install a Vertical Garden or Garden Wall
Vertical gardens are quickly becoming a dominating style trend of 2022. The most modern design for a garden wall is a wall covered by plants mounted into a hydroponic system. Hydroponics does not require any soil, and many of these systems rely on artificial lights and chemical fertilisers. This style of an indoor garden is space-saving and adds a luxurious, jungle vibe to your interior design. So if you are busy and looking for a garden that requires minimal effort, a vertical, hydroponic garden wall is the way to go.
Use a Self-Contained Terrarium
Terrariums are very popular in the world of indoor gardening. They are self-sustaining, small-scale ecosystems that exist within a glass container – best suited to plants that thrive in high humidity. Terrariums are a modern, contemporary style of indoor garden that will showcase both your interest in science and your sophistication.
Terrariums can be designed to fit in containers and enclosures of any shape and size, so they are a perfect way to express your individual style. If you have abundant space to spare and are willing to push the boundaries, a contractor can transform a whole room into your own personal jungle.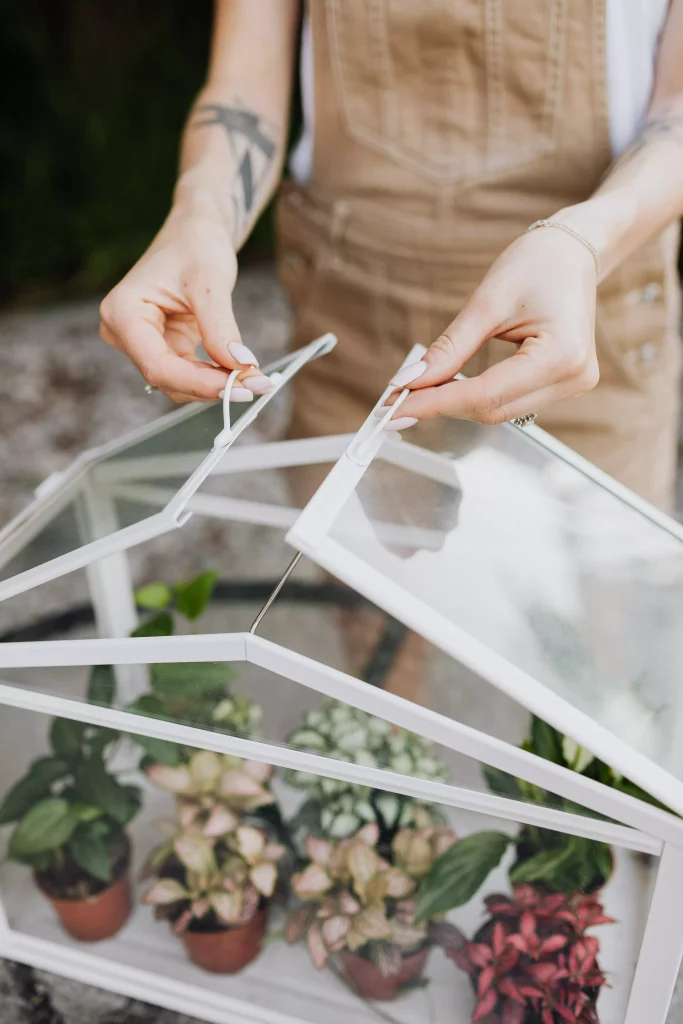 Start Planting Your Garden This Spring
Now that you've seen some of the available options and some inspiring examples, it's time to plan your own indoor garden. Our team of internationally-trained designers is passionate about plants and ready to assist you in any way. Contact us today to take the first steps towards adding gorgeous greenery to your home. Based on your unique style profile, our designers and project managers will guide you toward the best fit for your aesthetic, property, and lifestyle.