Customised furniture and personalised interior design can help revamp any area into a luxurious experience. Personalising your furniture and interiors can elevate the space when working with a room as personal as the bedroom. Read on to learn how you can create a luxurious bedroom to come home to by taking five simple steps.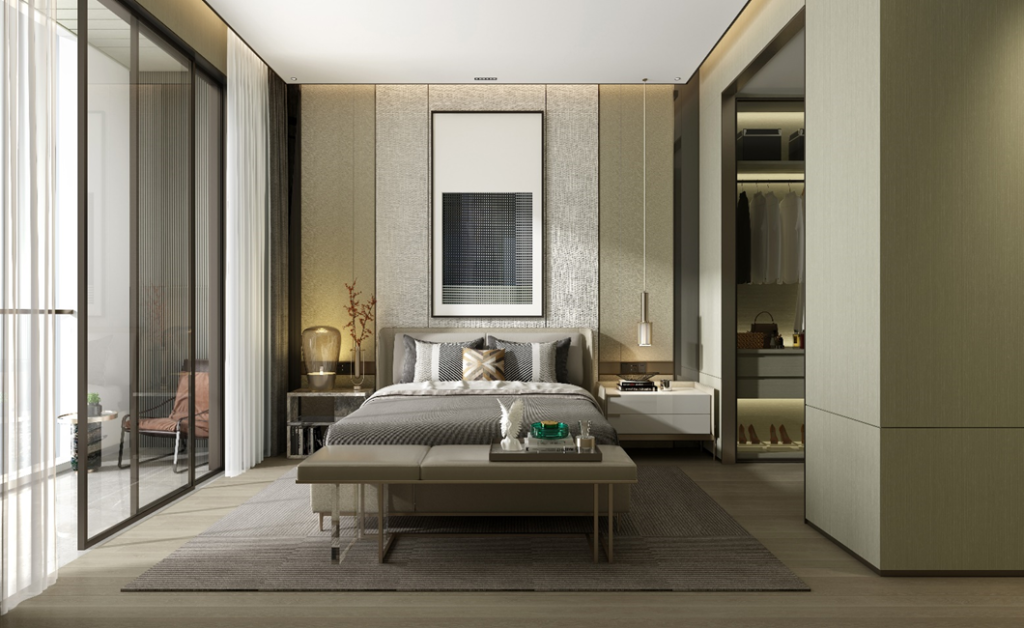 A bedroom is a heavily personal and sacred place. It embodies what it means to truly come home, unwind, and be your true self. When a space is so unique, it must reflect your choices and aspirations. You can turn your bedroom into a luxury galore by personalising interior design and adding custom furniture that reflects opulence.
Personalised Luxury Interior Design and Furniture includes using bespoke furnishings to elevate a space. If you are a maximalist, you can personalise bedroom furniture in an over-the-top style balanced with statement pieces. You can opt for clean yet luxurious interior styles if you are a minimalist. The focus of this luxurious oasis is you! The idea of luxury shouldn't be at the cost of your comfort. Do not forget to focus on your personal style and comfort in the quest to chase grandeur. It is possible to strike the right balance with a curatorial eye and vision. Here are some tips on how you can personalise luxury through your bedroom interiors and furniture to create a unique yet calming bedroom:
Choose a Theme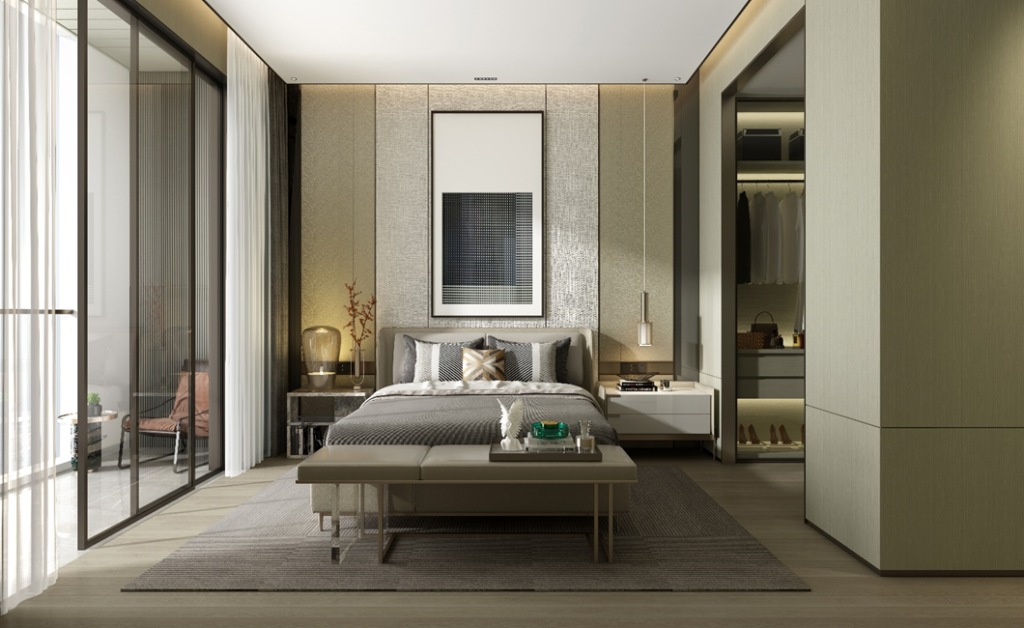 When making a mood board for your desired bedroom, take time out to visualise what comfort means to you. Take the DQ Style test to find your style and identify the right colors and materials for your space.
You can find a theme between the spectrum of modern minimalist styles to traditional intricate and elaborate designs. It can also be a combination of elements married together if it holds meaning for you. Feel free to play with colors, patterns, and textures in this space. While narrowing down on a theme might seem overwhelming amidst many options, think of some hero elements you want in your room. It can be a style of headboard for the bed, a specific type of light, or an accent wall. Stack decor and furniture against these hero elements to customise a theme of your liking.
Some of the most popular themes for bedrooms are:
Traditional
Rustic
Industrial
Classical
Mediterranean
Coastal
Scandinavian
Bohemian
Contemporary
Cottagecore
Mid-Century Modern
Curate quality pieces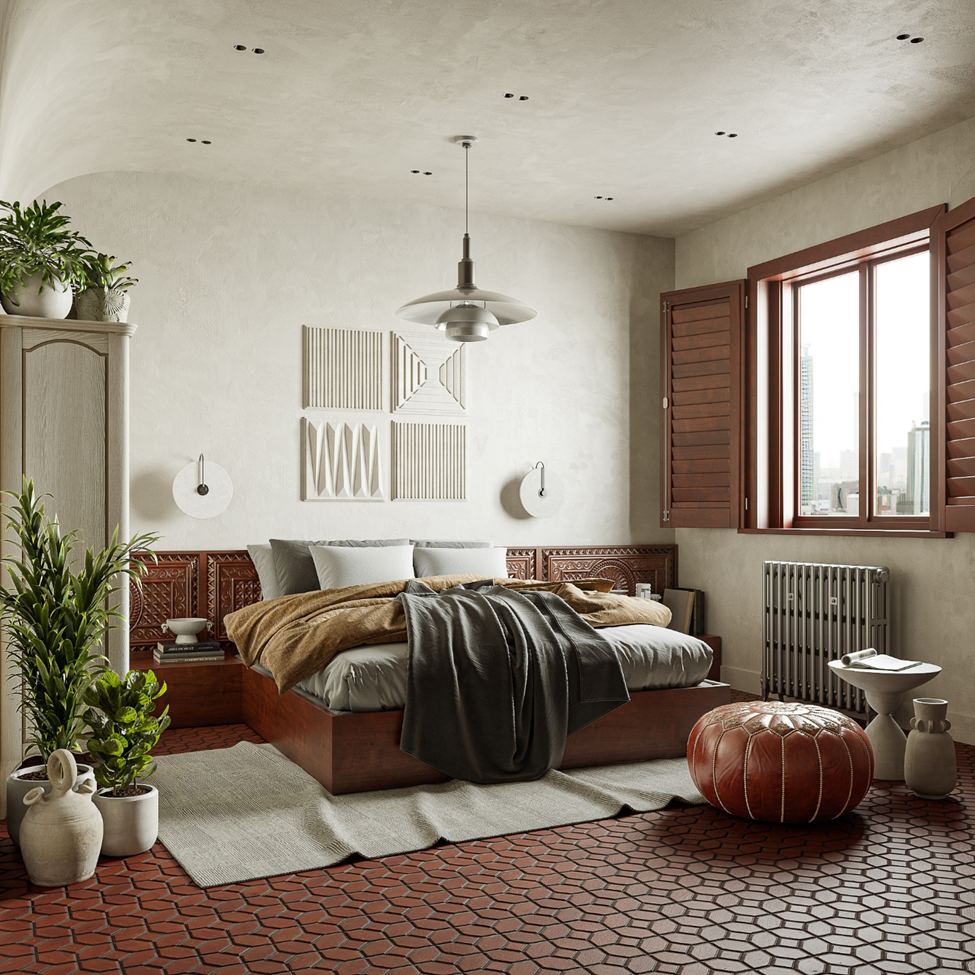 Once you have narrowed down the theme, you should curate timeless pieces that embody your tastes while reflecting your theme. Luxury does not have to mean complicated decor that is difficult to maintain, especially in a space like your bedroom. Invest in high-quality upholstery and furniture to bring a luxurious look. A lush, comfortable mattress with quality bedding sets is a non-negotiable for a good night's sleep. Opt for solid wood, intricate carvings, or a lustrous finish for bed frames and nightstands. Look for functionality alongside style while curating these pieces. Your nightstand can double up as a storage space, and dressers can turn to vanity when well thought out. Use fancy fixtures on the handles and locks to add more elegance to the room. Consider adding artwork or a chandelier as a centerpiece to elevate the space.
Mix and Match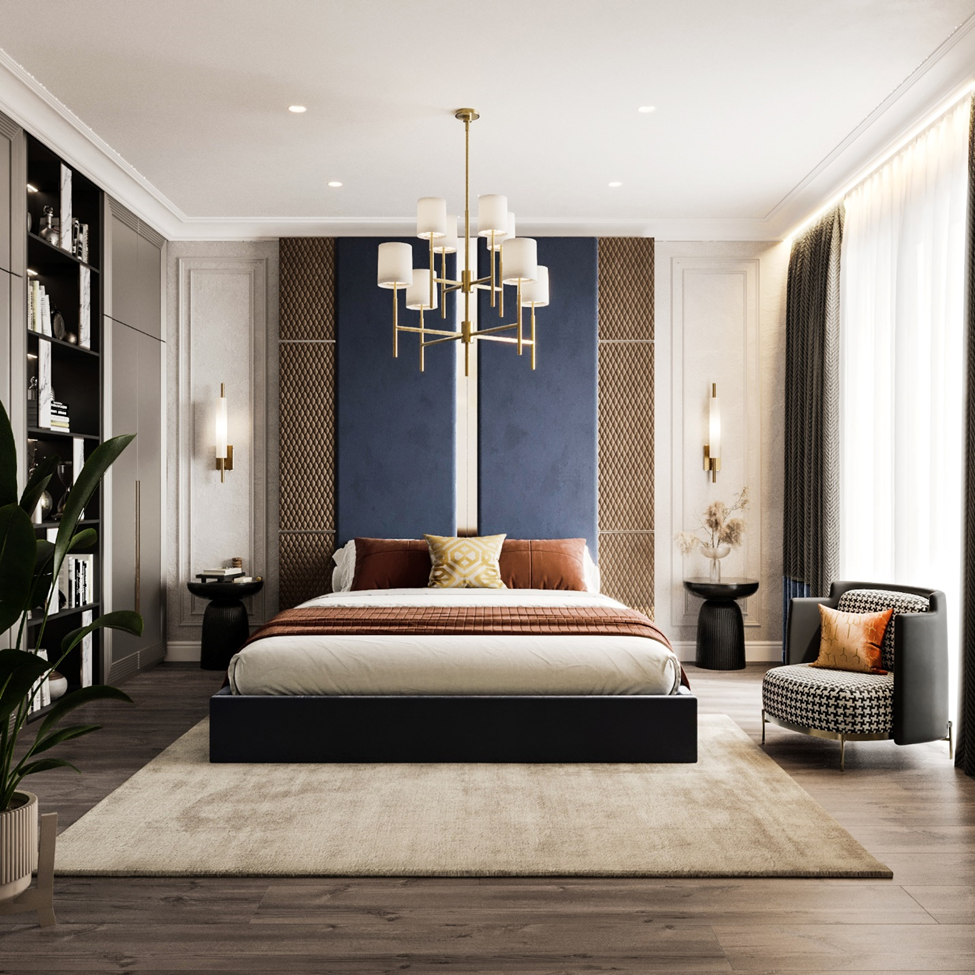 Luxury, when personalised, elevates a space like never before. What happens when you find exciting and outstanding elements that do not belong to the same line of thought? Mix and Match! If you encounter quality pieces that complement each other, mix and match themes to tie them together. A vintage dresser can be a focal point in the room and be supported with a modern or Scandinavian style in the rest of the room. You can choose to add textured or colored accent walls that can help your modern bed frame enjoy the spotlight. The goal is to curate a space that is cohesive enough to help you feel relaxed and calm. If there are too many hero elements that do not gel well directly, consider playing with lights or textures or adding decorative tidbits to bring it all together.
Add a personal touch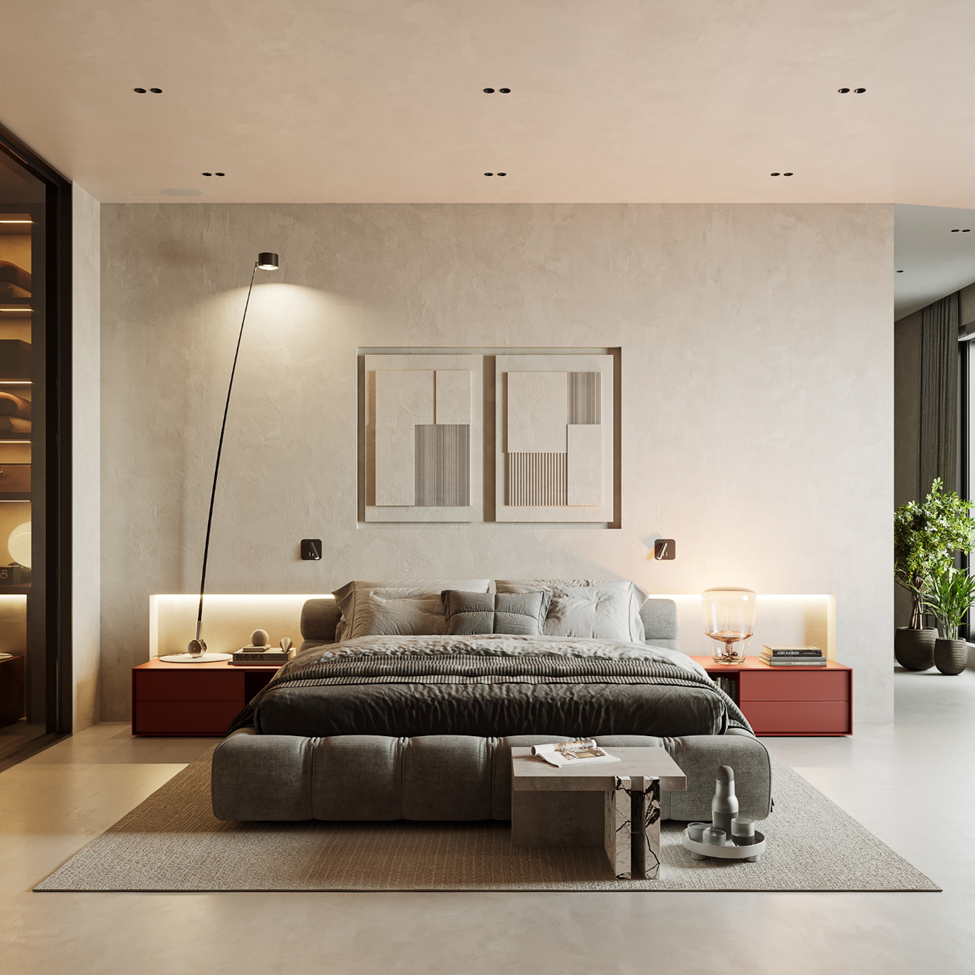 A bedroom will only be more comfortable when it puts you at ease due to its familiarity and warmth. As much as we talk about frames and furniture that exude luxury and decadence, they will only come to life with great personalisation. Once you have your theme and the right pieces to go with it, think of how you personalise this. You can add family photos or nail your favorite piece of artwork. You can add trinkets collected across your travel adventures to the bedroom. Add a throw, some pillows, or even an exquisite rug that means something to you and tells a story. A small tidbit also goes a long way!
Lighting is essential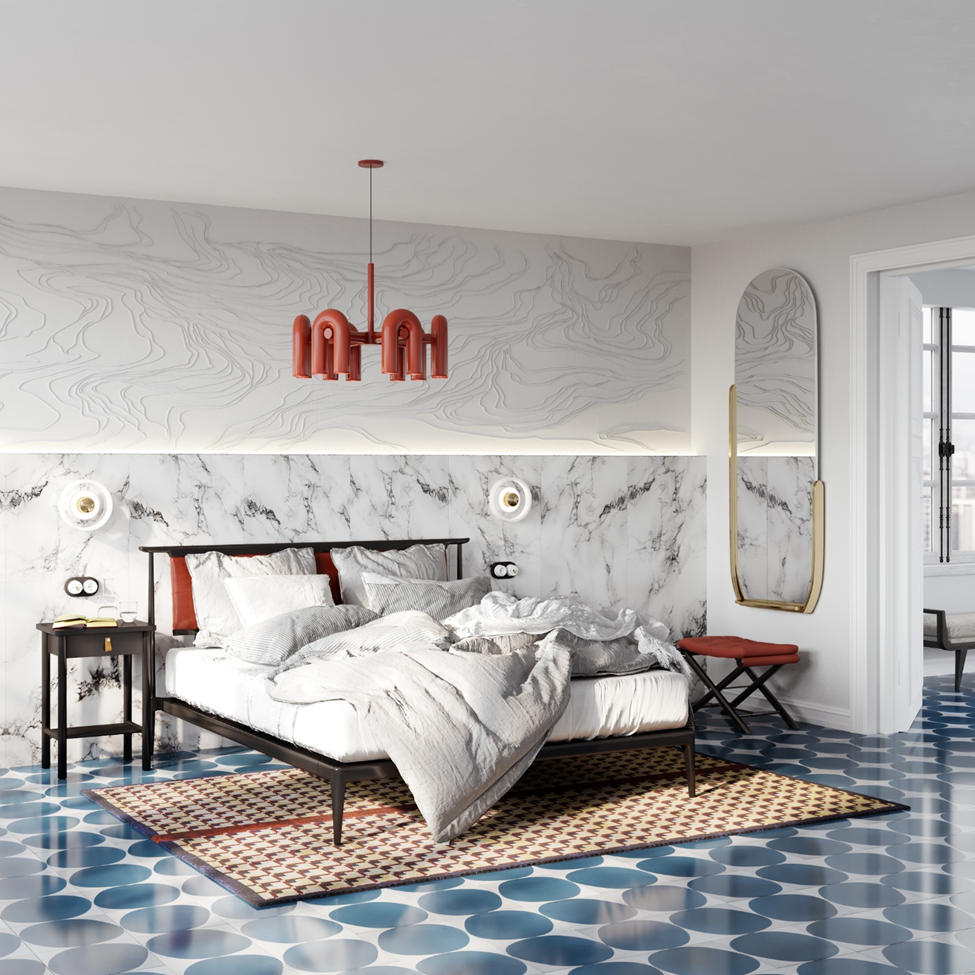 Lighting has the power to transform any room and what one feels about it. Under the right kind of lights, even the most dreary spaces can become comforting and homely. It plays an essential role in designing your bedroom. While focusing on unique furniture pieces and themes, ensure that you choose the right kind of lights that complement them. Natural lighting is excellent for creating comfort during the day but consider adding bedside and overhead lighting. You can choose multiple sources like a classy chandelier, string of fairy lights, or LED under lights to go alongside bedside lamps. You can opt for mood lighting and sunset lamps, too, to switch the vibe of the space occasionally.
All in all, if you want to create a luxurious yet personal nook of your own, personalising your bedroom interiors and furniture is the best way forward. You can leverage bespoke furnishings and custom luxury interiors by choosing a suitable theme, curating quality pieces, mixing and matching your styles and textures, personalising the space, and bringing it all together with the right kind of lights.
Our team of internationally trained designers is ready to help you personalise and achieve the right look for your comfort space. Contact us today!
Ensuring that your bedroom encapsulates your personality while exuding luxury can help you achieve a great balance and feel right at home. At the end of the day, it is essential that this space is comforting and soothing and puts your weary mind at ease.