Functionality + Aesthetics is what sums up an ideal kitchen. In order to achieve the balance between the two, we need to take into account many things like layout, cabinets, colour scheme, appliances, accessories, lighting, countertops, etc.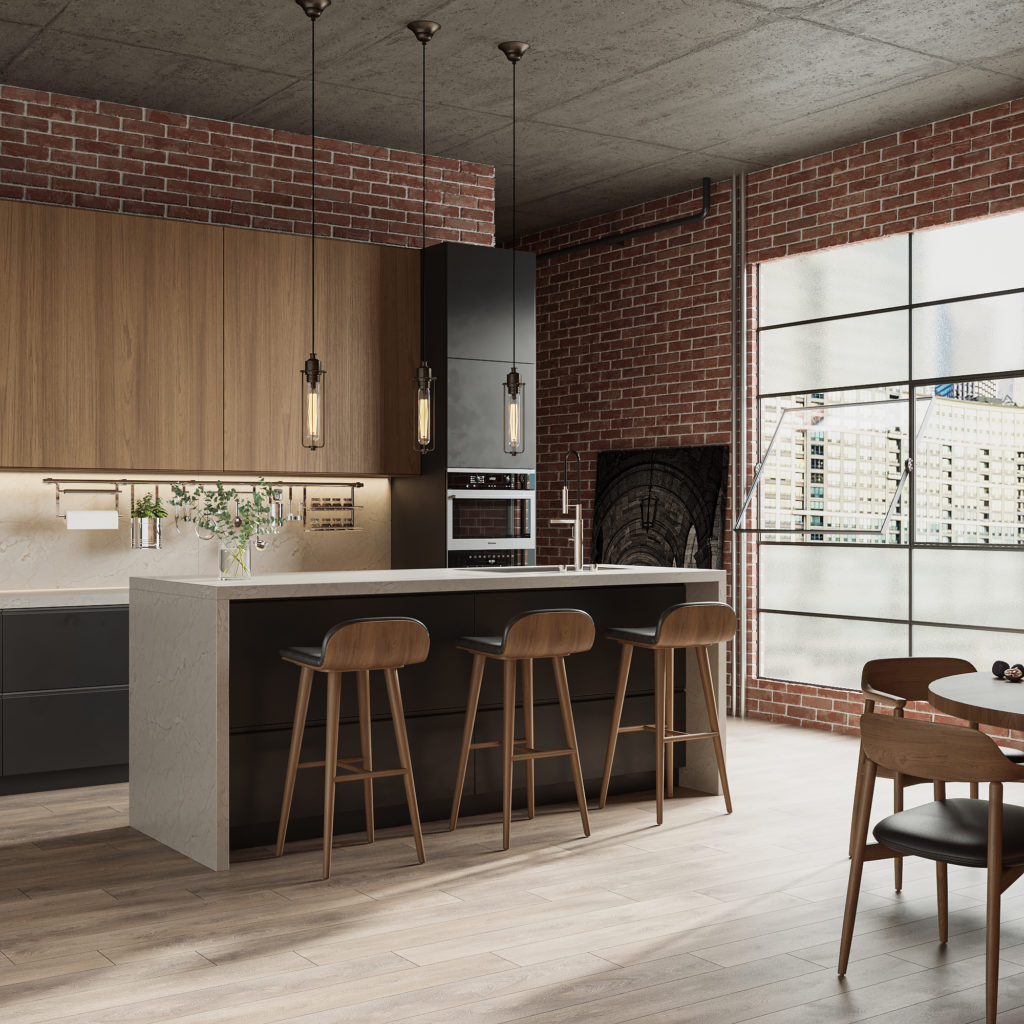 Every individual has their perception of their dream kitchen – while some people want to keep their kitchen design to a minimal, others go overboard with fancy decor, and some desire nothing but the latest trending kitchen design ideas.
Countless ideas indeed, but the goal is to have a kitchen that speaks comfort in terms of design and functionality.
So, we did the research for you and categorized the basis of a boastful kitchen. And here are the top 5 features every dream kitchen has!
1. Storage-Storage-Lots of Storage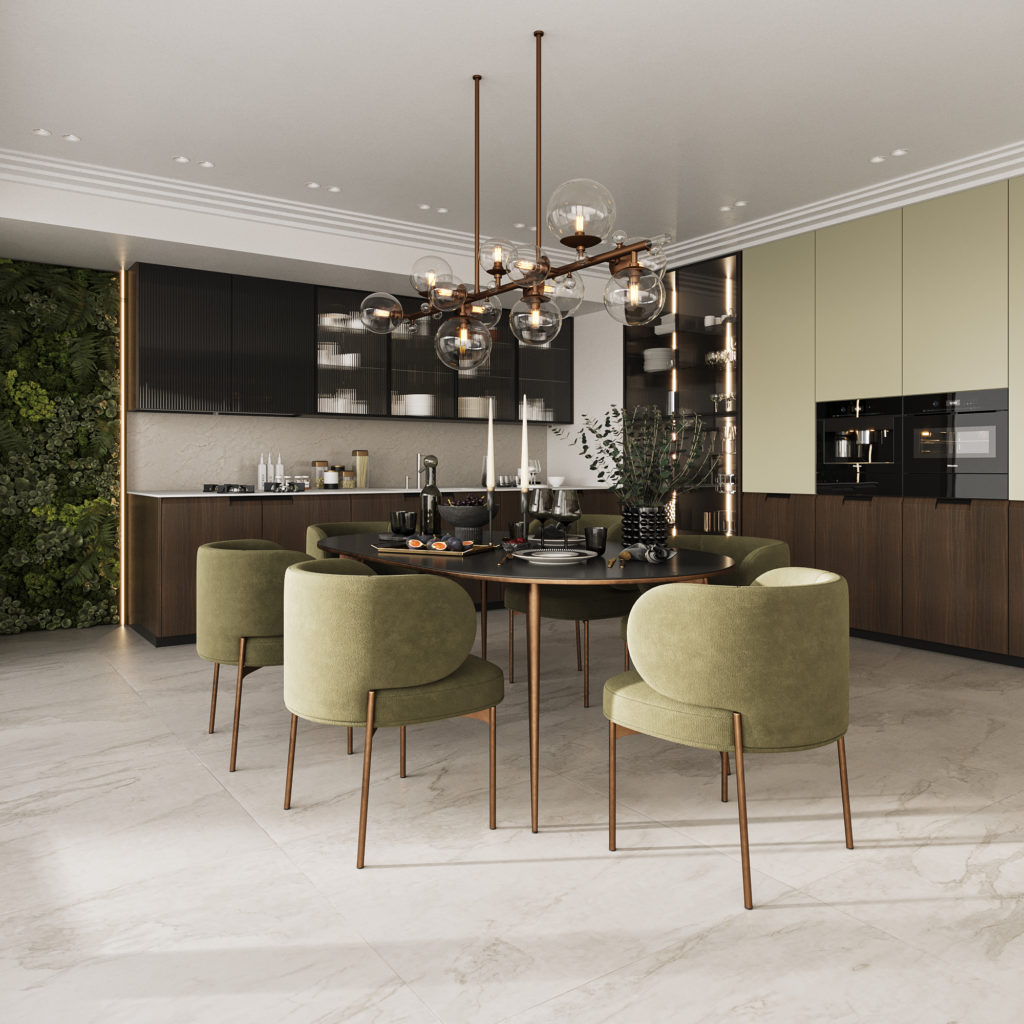 Nothing beats a kitchen design that has several clever and diverse storage units. After all, the storage does form the backbone of the kitchen.
The options are vast and mind-blowing – ranging from modular storage cabinets to hidden storage units. Not only do you get to choose the number of storage cabinets, but also the type of storage units. You name the type – open or closed, shelves or boxes, shutter, pull-out, lift-up, the list really is endless.
Do you know the best part? We have every design and type to suit your custom needs!
The only crucial thing to remember is your kitchen layout. However tempting the more-storage option sounds, overdoing it may negatively impact the overall space and functionality.
Pro tip: Always divide your storage units into the bottom cabinets, the wall units, and the tall units. Every form of these units serves a unique purpose. Remember what we said about functionality + aesthetics?
So, base your design such that the bottom storage highlights functionality, whereas the wall storage units showcase the aesthetics.
Also read: Top 10 Heartwarming Interior Designs for Kitchen
2. Sink Choice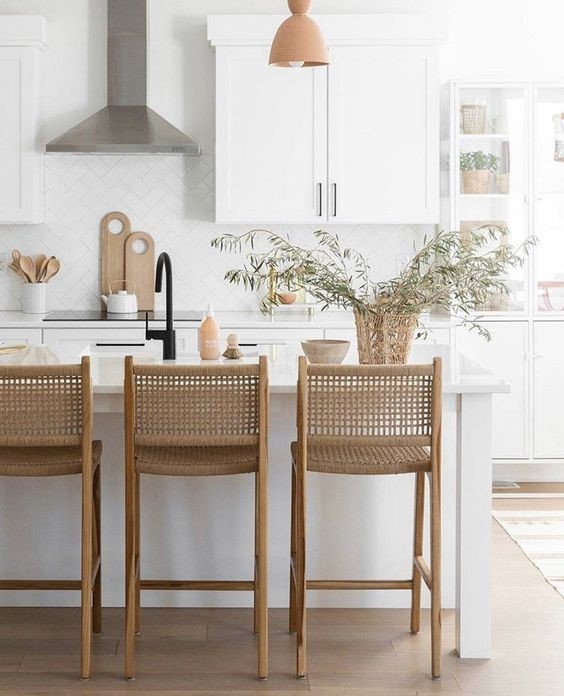 The sink decision is highly underrated when it comes to kitchen design. Most often, people neglect or plainly do not give much importance to the correct type of sink. It is here that things falter in the long run.
The right kind of sink choice makes a real difference in the kitchen design. It helps to lay down a few other requirements as well, like the type of faucet, the placement of the dustbin, the under-sink storage, etc.
The different kinds of sinks serve individual purposes. For example, you may use a single small sink to wash the veggies and fruits, while a double sink helps with both the fruits and veggies and the dishes. You can even opt for separate sinks – one each in the kitchen and utility area or two independent sinks for non-veg items and veg food.
So, do give it a thought and decide discreetly.
3.      Effective Decor & Lighting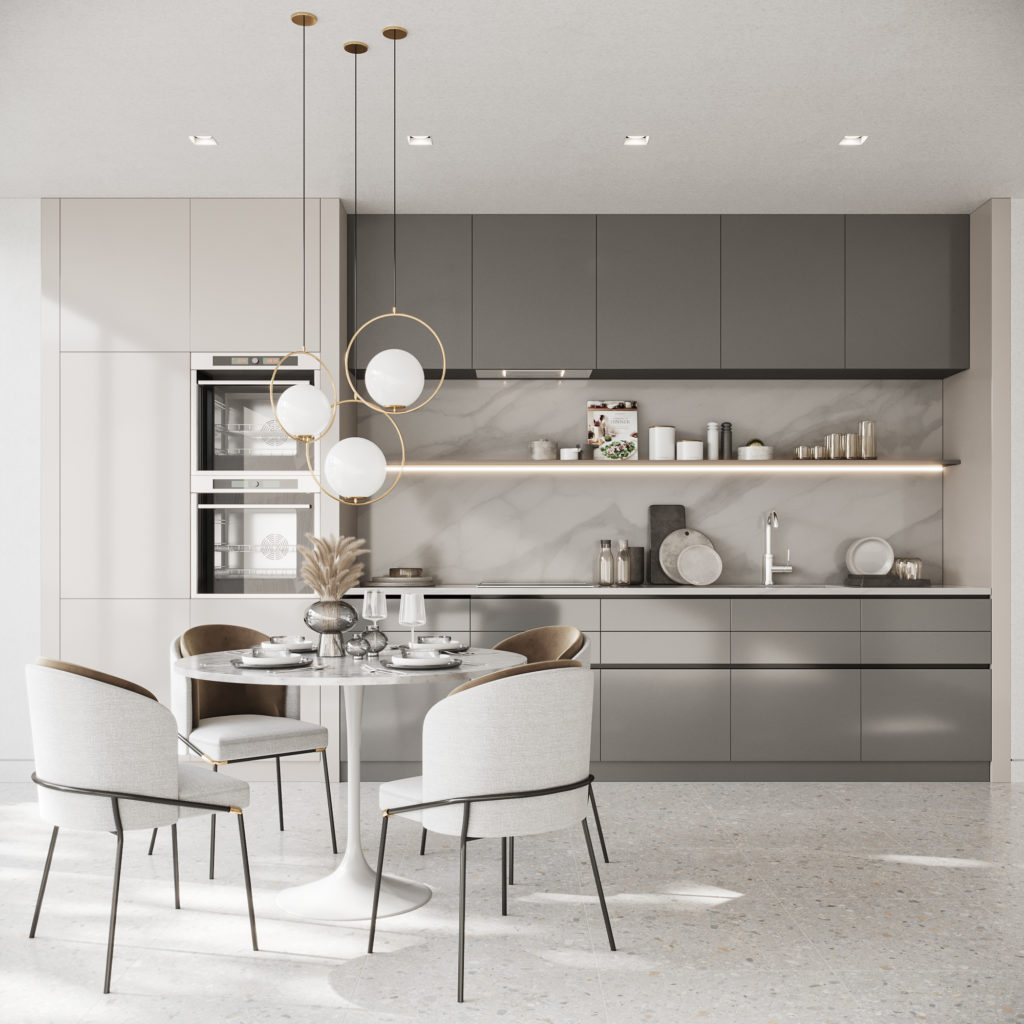 To cook a yummy meal, you need to take control of the ingredients, especially the spices. And to attain perfection, you need just the right kind of lighting in your kitchen.
Decor and lighting may sound a bit secondary to some people, but let us tell you that kitchen decor and lighting are equally vital aspects.
We need precise lighting evenly laid across your kitchen based on your design, colour scheme, and layout. Further, in the case of an island or breakfast counter, we need focus lights to make the delicious food stand out. You can choose from a varied selection of lighting that our designers will curate for you.
While the decor is debatable, it is always encouraged to add tinie-tiny details like potted plants or mini artifacts. These small yet noteworthy details raise the essence of your kitchen from an ordinary one to a remarkable one! Plus, these artifacts add an element of fun to your cooking time.
4. Eternally Helpful – The Golden Triangle Rule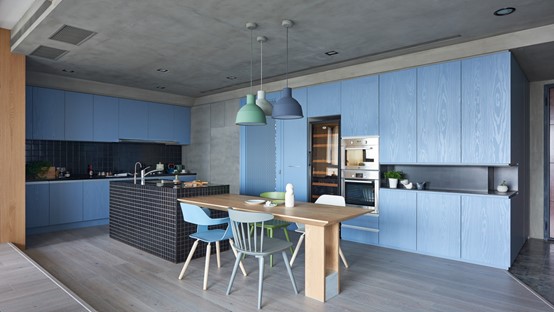 Over the years, everything about the kitchen design has changed or somewhat hugely upscaled. But if there is one thing that has remained constant is the accurate way of defining the classic kitchen space.
The evergreen golden triangle rule ensures you have a kitchen design bragging about all the qualities of a dream kitchen.
This golden triangle rule helps confirm the supreme functionality by securing a concise placement of the stove, the refrigerator, and the sink – all three making a clear triangle. Besides creating an ideal space to walk around in the kitchen, this rule is exceptionally smooth in terms of accessibility.
Whenever in doubt, always always always straight away think about the golden triangle rule. Once you figure out the determined placement of the above set, arranging all the other elements becomes a tad bit easier.
5. Customized Design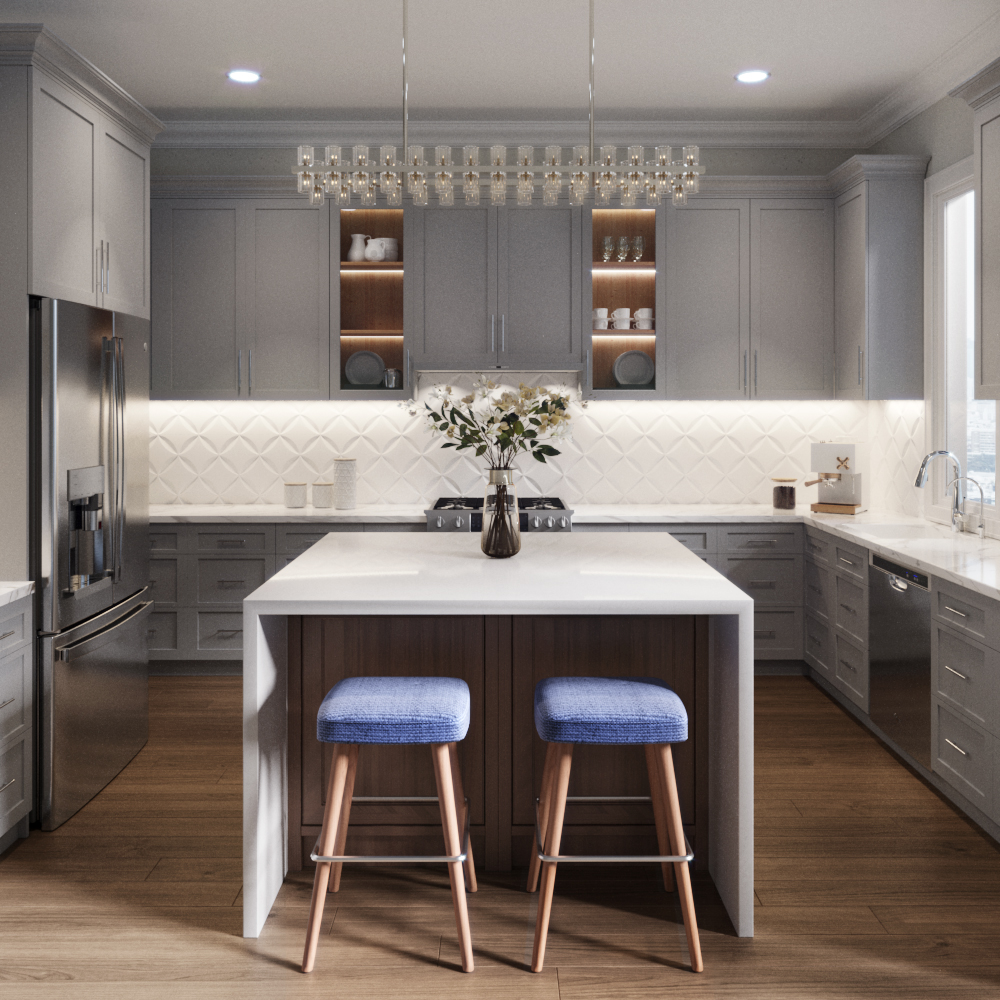 Custom-made designs are always best suited because every individual comes with a distinctive palette. You may refer to a kitchen design that you really like, but, ultimately, what matters is whatever you add to the table.
Every kitchen layout is dissimilar, so should be the whole design. Go ahead without any worries and choose a theme that best suits you. Pick a style and colour – tropical blue or smoky grey, or pearly white.
Go for the most extravagant backsplash or maintain poise with a subdued feature wall. Our expert team of designers will make all the choices seem extremely easy!
To further simplify things for you, you only need to take this easy-peasy design test for you. This test enables us to closely understand your persona – your thought process and desires – which helps us plan out the perfect design and mood board for you! Click here to take the STYLE TEST.
Conclusion
The kitchen is the place where people spend most of their time unknowingly. So designing an ideal kitchen should always be a priority. Regardless of the area and the layout, we at Design Qandy will craft a design for your dream kitchen that will snatch away the boredom and weariness of cooking!
Reach out to our designers HERE to tell us about your dream kitchen and see us transform that dream into a super gorgeous reality.