Minimalism continues to take off as more people around the world reject the rat race of consumerism and the clutter that fills their homes as a result. In interior design, minimalist home designs are one of the best interior design styles, and it has risen in popularity each year recently. In many home layouts, the living room is the anchor that connects all the other main rooms of the house. A sleek, simple minimalist living room is a great place to lounge or entertain guests. So here are 7 minimalist living room designs to inspire you, as you design your new home or condominium.
Benefits of a Minimalist Living Room
While many people choose a minimalist interior design style to save money, a truly beautiful minimalist living room does not need to appear cheap or like it is missing elements. High-quality minimalist furniture and artisanal minimalist decor can transform an empty space into a welcoming, comfortable room.
The light colours and decluttered environment of a minimalist living room have a calming effect on many people. A crisp, clean living room can be inviting if done right, while improperly planned rooms may feel sterile or devoid of life. By working with Design Qandy's internationally qualified interior designers, your minimalist living room will be bright and unique to you. We believe paring you with the right designer is one of the most essential aspects of designing a home that matches your dreams. And the best part about minimalist homes is that they are much easier to manage.
Here are 7 Inspirational Minimalist Living Room Interior Design Ideas
We have handpicked 7 minimalist living room designs to inspire you, as you remodel your house or design a new home. These are broad ideas that can elevate the quality of your interior design, and how you choose to use them should be as personal and unique as you would like.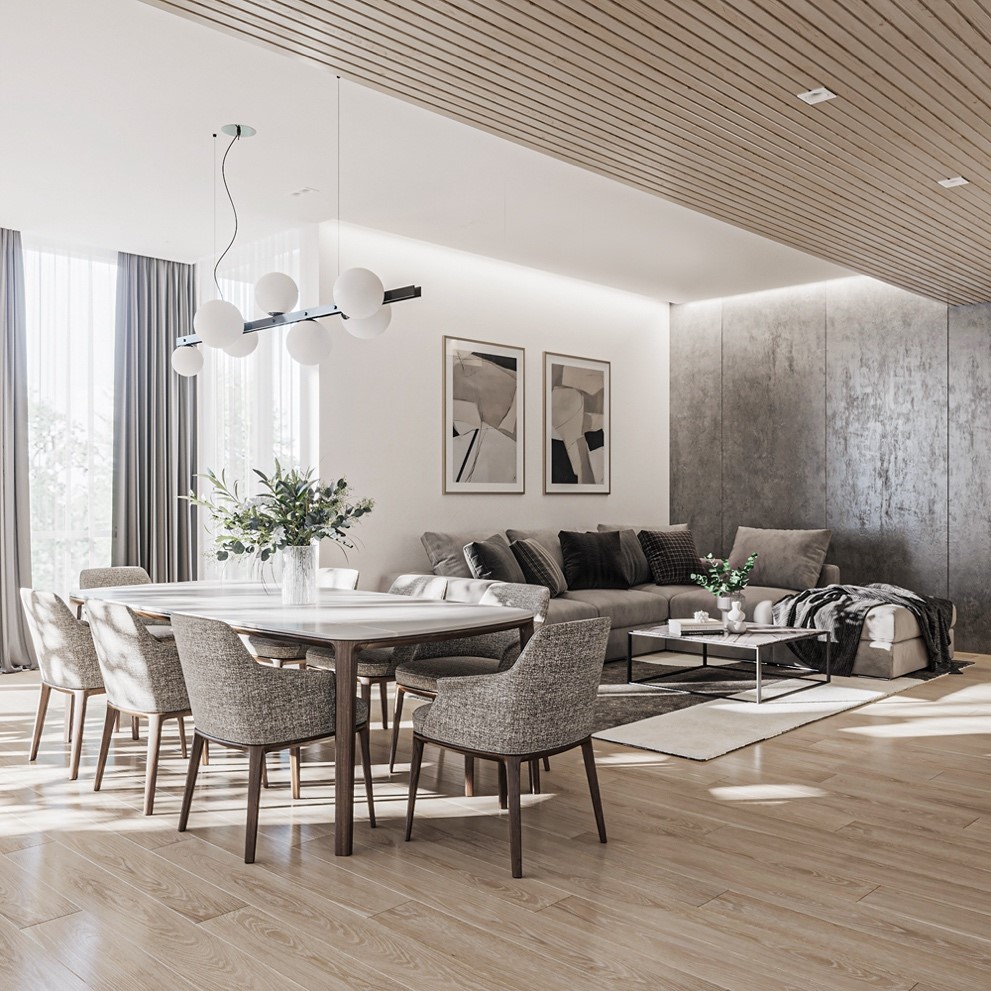 #1
Be intentional
Intentional living is closely tied to minimalist design principles. From the KonMari Method to true asceticism, intentionally choosing each item you welcome into your home can transform your space. When you bring an item into your home, you bring it into your life. Be certain of each piece of minimalist furniture or home decor that you add to the equation. This mindset will improve the overall quality of your design and deepen your connection to the space.
Incorporate your passions into the space, even if it pushes the boundaries of what you think is "minimalist." You can choose artwork or small curios that reflect your interests and ideals.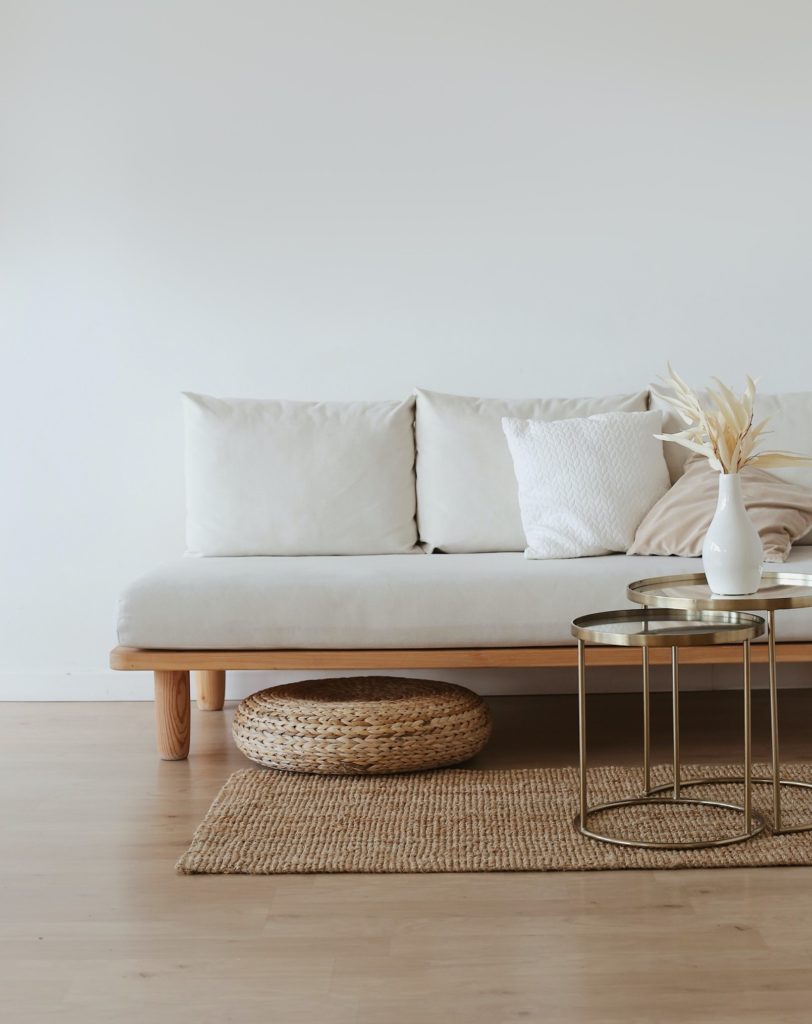 #2
Go for streamlined lighting
Lamps and hanging chandeliers would make your house feel smaller and more cluttered. So for a sleek minimalist living room, select small, powerful lighting options or build them directly into the walls or ceiling.


Recessed can lights are a great choice for any home, but long LED strips set into the architecture can provide bright, adjustable light across the entire space. White lights will brighten the living room up. Adjustable smart lighting can switch to warm yellow tones when you would like to make things feel cosier.
#3
Add a pop of colour
While most minimalist interior designs feature white, black, and a variety of grey hues, you can absolutely use bright colours. But using only a dash of bright colour will emphasise them and not ruin the clean minimalist vibes of the rest of the living room. A nice piece of art, some fun pillows, or even a painted or wallpapered accent wall can provide a burst of life into your minimalist living room.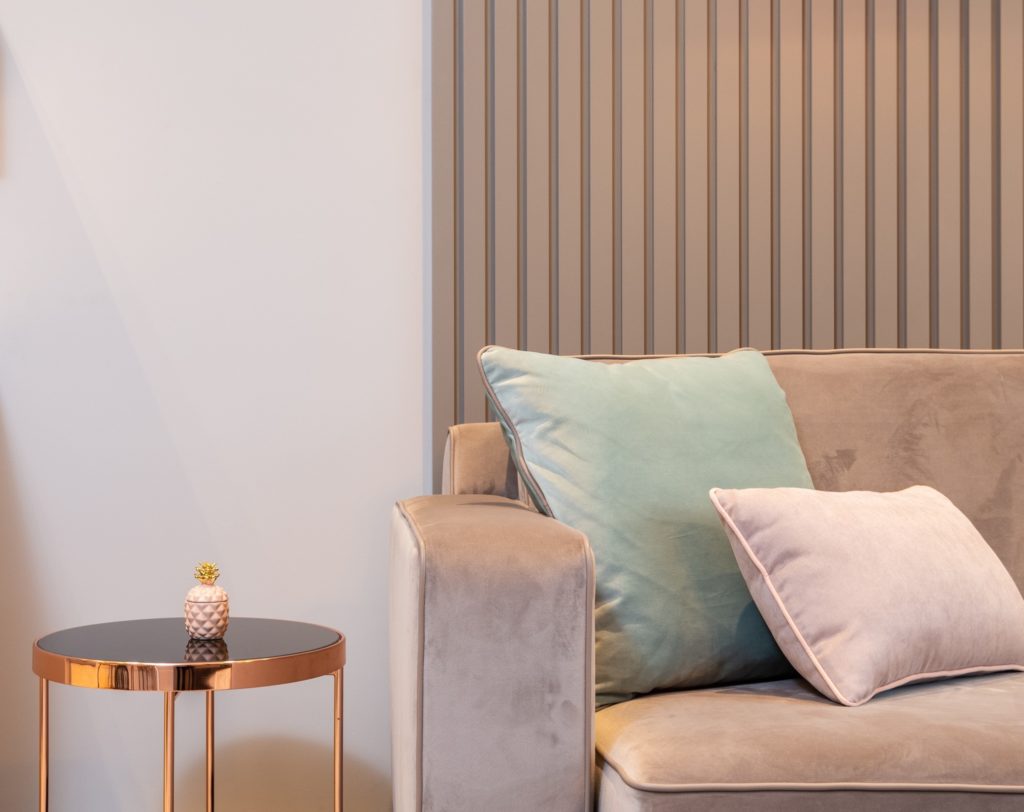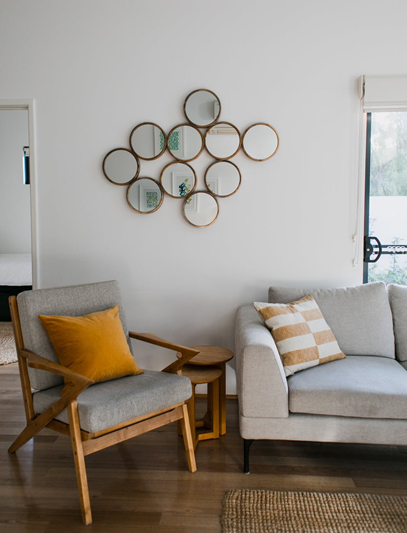 #4
Mirrors let you open up the space
Using mirrors is an excellent way to make your living room feel larger. And mirrors do not clash with minimalism, meaning they are one of the best minimalist decorations. You can use huge wall-length mirrors but a group of small ornate mirrors can also bounce light through the room while adding an artistic touch.
#5
Choose organic decorative pieces
Many minimalist decorations are geometric, but those fit better within a modern interior design. To set yourself apart from the sharp angles of modern designs, select decor with organic, unique shapes. Handmade pottery and ceramics are one of the best ways to add soft curves and natural energy to your living room.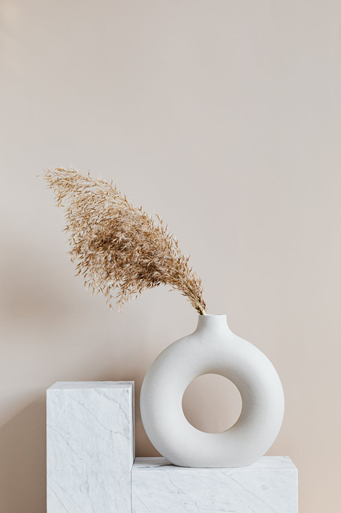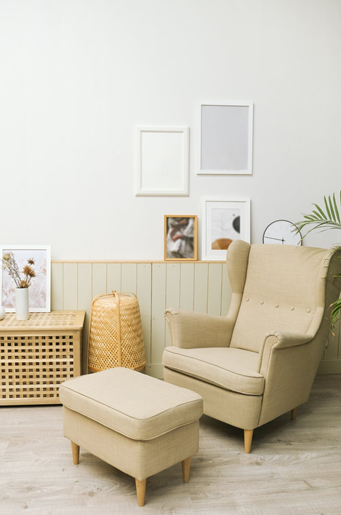 #6
Play with textures and materials
You do not have to avoid natural materials like wicker and rattan when you are choosing furniture for a minimalist living room. Interesting materials like stone, exotic woods, and natural fibres can offset the flat look of common minimalist designs. Including natural materials is common in the related Scandinavian design style, which has roots in minimalism.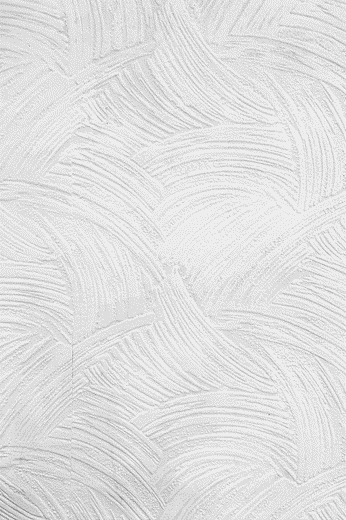 Textured surfaces can also add depth to a room, whether you choose a plush rug, exposed brick walls, or textured paint for the whole room. Simple, mono-colour patterns with a texture are still understated and minimalist.
#7
Don't forget about plants
Adding plants is a sure way to bring life into any room, and few rooms benefit from greenery as much as a minimalist living room. You can even add hanging plants if you want to keep your floor space open and minimalistic. Many designers say every room should have at least one plant, and there are a variety of small, easy-maintenance plants that will keep your home and life minimal and intentional.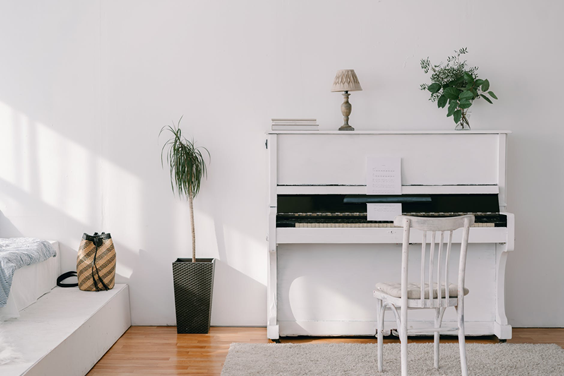 Choosing Minimalist Furniture and Minimalist Decor
Selecting the best minimalist living room furniture requires a keen eye and an expert knowledge of many furniture and home decor brands. The market of minimalist furniture and minimalist home decor is awash in low-quality, budget options that can dilute your whole living room and weaken your individual style. When you choose Design Qandy you don't have to worry about the small details and big decisions. With our team of skilled designers, expert planners, verified contractors and high-quality materials, we will take care of it all. Can we help you design your home? Simply call us on +919619654321 to get started.