The tropical interior design motif is becoming more and more popular each year, as fewer people are able to travel to their ideal vacation spots. Whether you crave a luxurious place to relax or an exotic element in your home's design, a tropical theme is a great choice. Many of the internationally trained designers at Design Qandy are big fans of the tropical design archetype. They love to help our clients achieve the style of a resort in their homes.
What is the Tropical Interior Design Style?
The tropical interior design style is a bold choice. This style uses strong elements like botanical wallpaper, vivid colors, and huge houseplants. Common tropical patterns and motifs include palm trees, monstera plants, tropical flowers, pineapples, parrots, and flamingoes. These frequently found elements pair well with some of the tropical style's brightest colours like pink, ocean blue, and every shade of green imaginable.
Expect to also see tons of natural materials! Tropical style usually incorporates furniture or decor made from rattan, jute, sisal, and African barkcloth. Rich, dark hardwoods like ipe, garappa, and teak are premium choices for any wood architecture. These materials all evoke the tropical islands in the Caribbean, arguably the origin of modern tropical style.
Interior Designs for Your Tropical Paradise
Here are eight of the Design Qandy team's favorite examples of tropical interior design. We hope that you are inspired while designing your new home or condominium.
1 – Look at This Luxurious Tropical Bedroom
This gorgeous bedroom is a prime example of a tropical style made cozy. You can see classic tropical-style elements like the oversized jungle plants and hardwood parquet flooring. The soft lighting, enhanced with fairy lights, sets the perfect mood for a nap or a long, restful night.
Faux-fur pillows work surprisingly well alongside the jungle vibes, and they make the bed soft and inviting. Glass doors to the exterior allow in lots of natural light during the day, so waking up is just as easy as going to bed each night.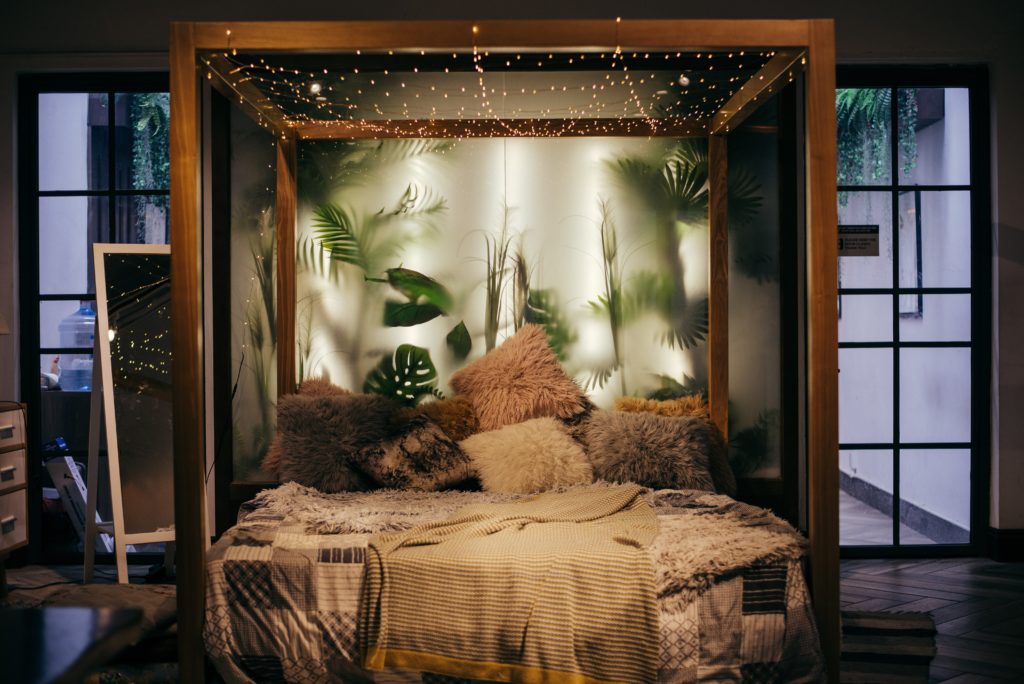 2 – Now, Here is a Fun, Tropical Bathroom
Bathrooms can be extremely difficult to inject with energy and life. Oftentimes, bathrooms are on the interior of a home's layout, meaning you will get little to no natural light. And the humid nature of a bathroom means that natural materials, houseplants, and wallpaper all may not survive for very long. This bathroom solves all of these problems by using bold floor-to-ceiling botanical tiles. The massive leaves of tropical plants cover the walls and complement the unique tiling pattern on the floor.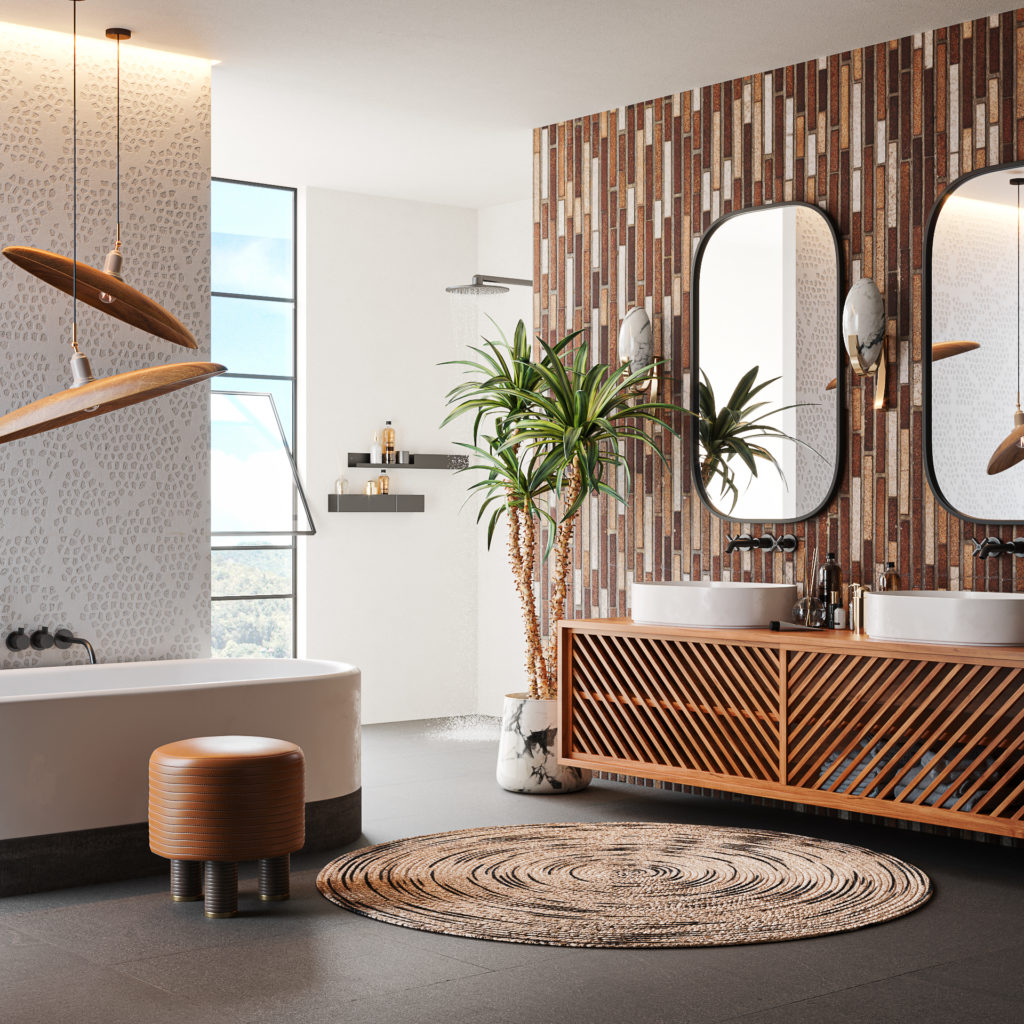 3 – Entertain Guests in This Incredible Tropical Dining Room
This dining room is relatively muted with colours and design choices, but it is certainly a tropical masterpiece. The wall of live plants is a gorgeous inclusion, and pairing it with a large skylight ensures year-round greenery and sunlight. The furniture is tasteful and naturally made, using sisal and wood. Finally, the bright centerpiece draws attention to the table and, ultimately, whatever meal or conversation is taking place at it.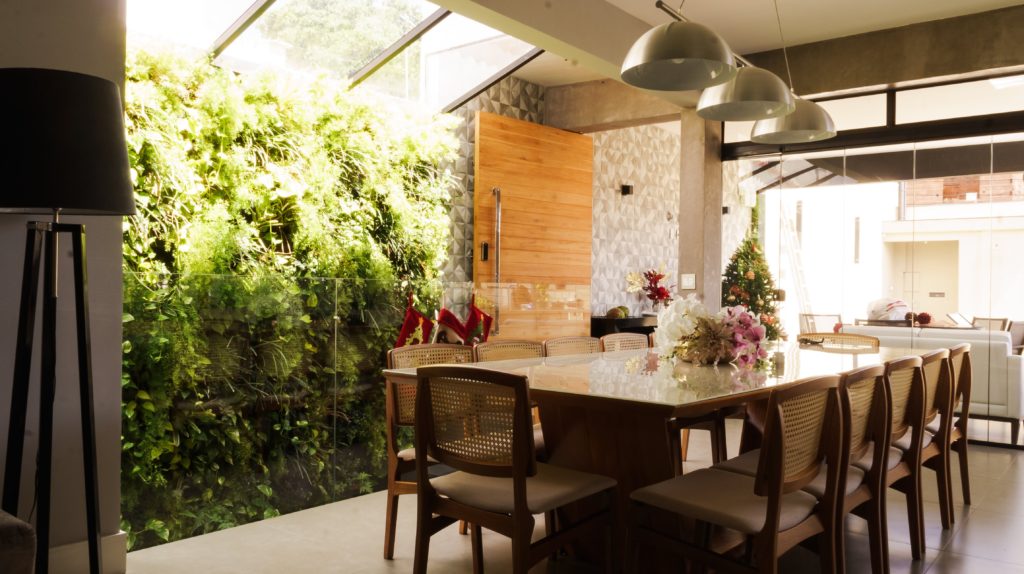 4 – A Truly Funky Tropical Family Room
The bright hues of tropical interior design like pink and ocean blue work best in a room for activities, where you will need their energetic feeling. This tropical family room uses neon pink to accent the crisp white furniture and complement the rich jungle greens. Placing a bright flamingo statue behind some foliage is a smart move – that way the vivid pink will not overpower the room's colour palette balance.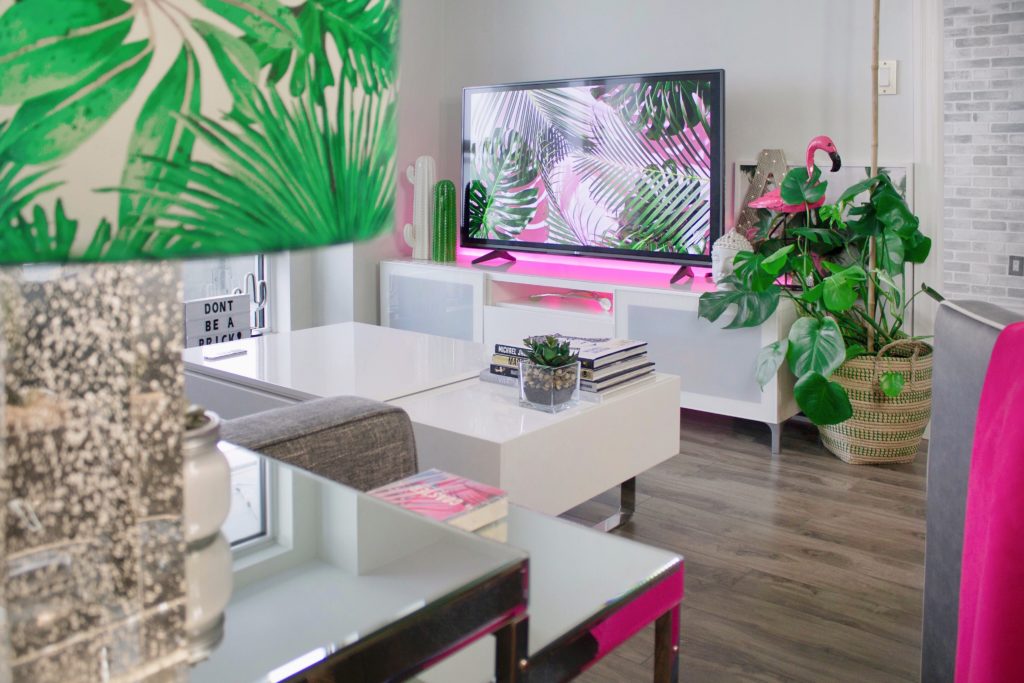 5 – Unwind in a Tropical Sitting Room Like This One
The wall art in this tropical sitting room is stunning and incredibly luxurious. Sepia jungle plant art as a backdrop helps the live plants in the room to stand out. The low seating is plush and comfortable, making this an ideal spot to unwind or meet with friends. The colour palette and design motifs in this room are clearly designed by a professional.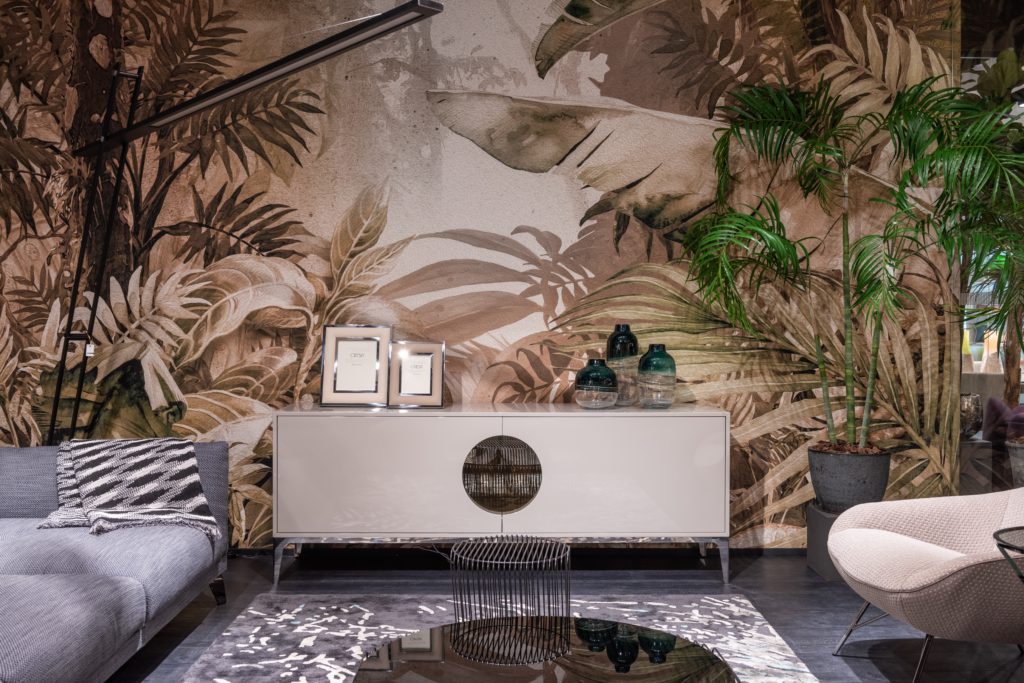 6 – Escape to a Magical Tropical Courtyard
Tropical designs work well inside a home, but they truly shine when allowed to expand to the building's exterior. This secluded courtyard personifies the tropical design style. The lighting has a natural, yellow hue. The stonework and tiling are just magnificent and remind visitors of an upscale resort.
Large, leafy plants hang over a private bathing pool with a small water feature. This escape would be the perfect place to take a dip on a hot day. It would also be the ideal spot to curl up with a book, late at night, to listen to the running water and rustling leaves. Anyone who is a fan of the tropical style should consider including a courtyard in their building plans.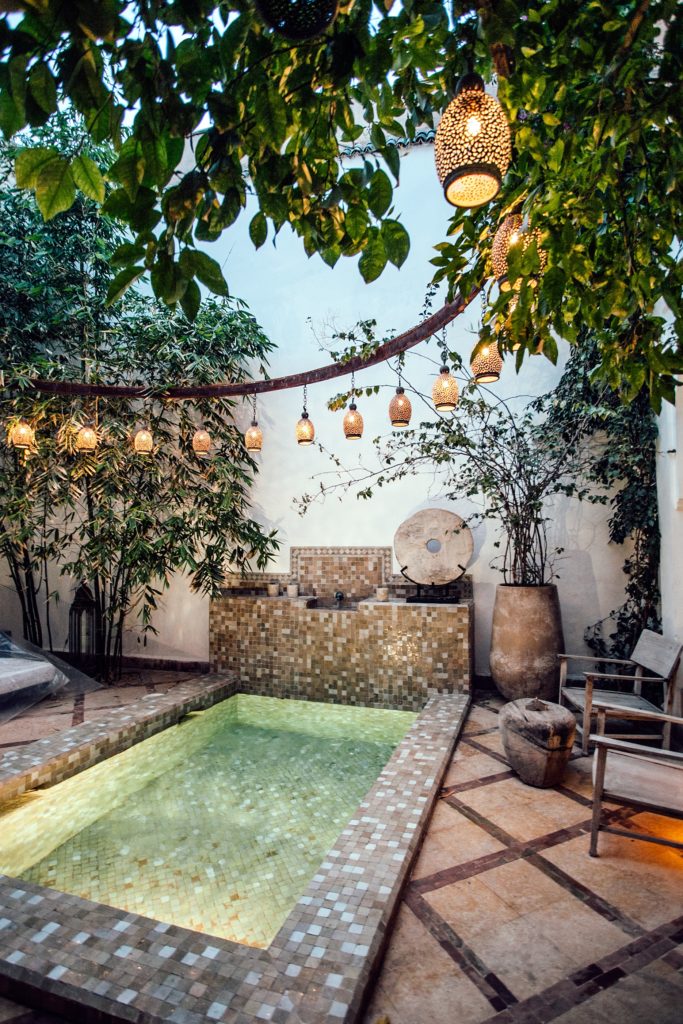 7 – This Tropical Living Room has the Perfect Work-From-Home Vibes
What is the best way to get more work done at home? Cover any and all distractions with humongous leaves, of course. Not only will these large tropical plants promote peaceful, focused work, but they will also help purify the air inside your home. Sleek leather sofas and wooden or rattan end tables would make the perfect capstone for this room's design.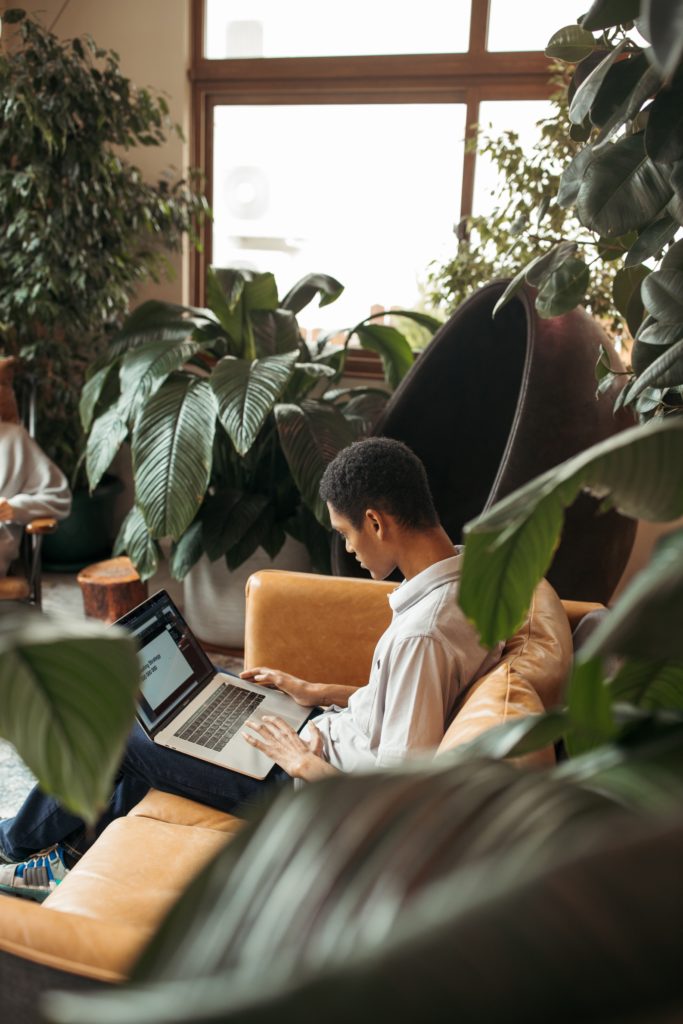 8 – A Welcoming Tropical Foyer
The entryway of a home sets the tone for the rest of the experience – make sure it matches your overall design. We are big fans of hanging plants, and the geometric design in this foyer is no exception. The pale pink makes the greenery visually pop, and has soft lighting to open up the room.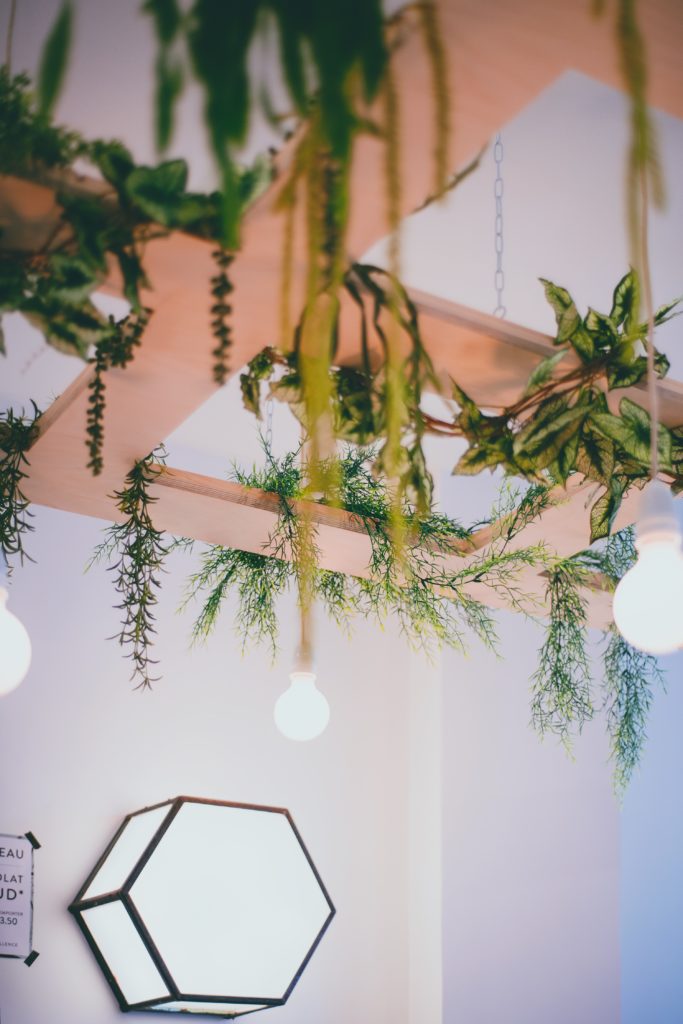 Work With Design Qandy to Design a Tropical Themed Room
Ready to give your home an exotic resort feel? Contact Design Qandy today by calling +91-9619654321. Our internationally qualified designers are experts in the tropical design style. We are ready to provide a tasteful and luxurious escape for you, during new construction or a remodelling project.