Design and Dine: Your guide to Dining Rooms, Tables, Chairs, and more.
A dining room is a space that becomes home to family and friends alike. Read on to explore various styles of Dining Rooms and pairings with tables and chairs that elevate this space.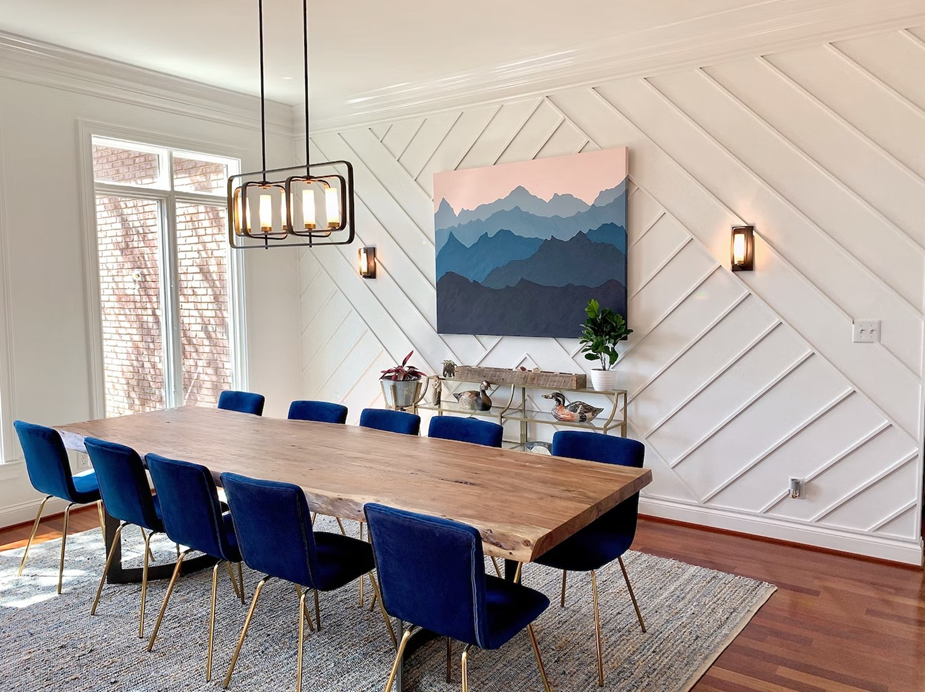 Houses are made homes by the people who live in them and make them come alive. Every individual brings their flavor to the space and customizes it to suit how they experience the world. But if one must highlight one area that ties the house and people together and brings them closer, it is the dining room. It doesn't matter how different you are from each other or how busy your schedules run. The dining room asks you to pause, sit down, and breathe. It becomes a common ground for conversations, meals, and memories. When a place holds so much importance in the house and the lives of those living there, the dining room must be designed correctly. Read on as we explore how choosing the right dining table and chair style while designing or redecorating a dining room can make all the difference.
Traditional Dining Room
If you have grown up looking at the Dining room as a space of authority,decision-making, and bonding with family, you can recreate that sacred space by opting for a traditional Dining Room. Traditional Dining Rooms are elegant and robust, typically featuring a sizeable wooden table crafted in conventional or a trestle format in dark-colored wood with careful and intricate detailing or a marble/stone table top. You can pair this table with ornate, upholstered chairs that add a pop of personality and color. Florals or velvet are excellent choices for decor and design. You can also opt for natural stone flooring or a lush rug underneath the table. This setting is timeless and something you cannot go wrong with.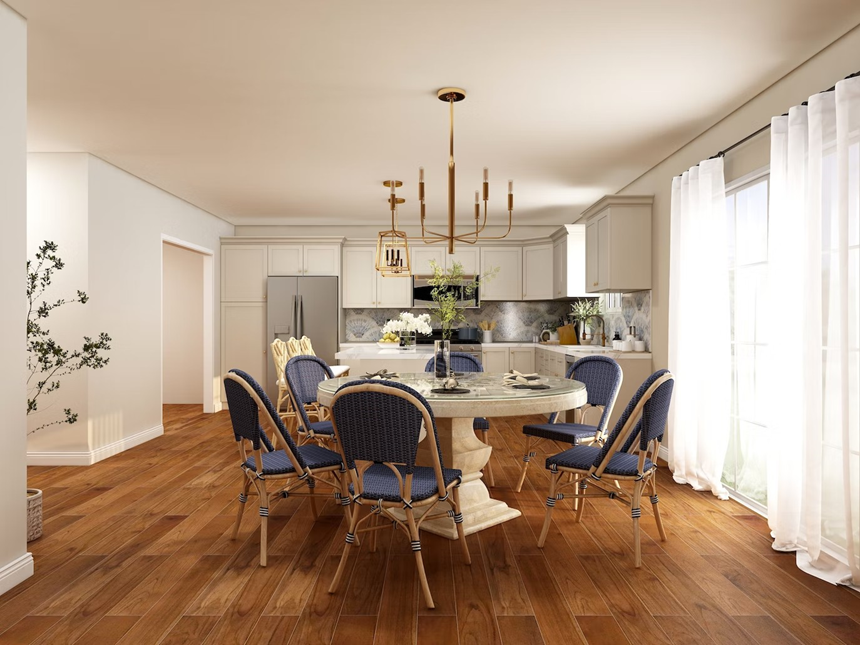 Design Qandy Tip: Add a statement chandelier or a light fixture over the table to add to its opulence.
Modern Dining Room
This one's for minimalists and people who love versatile spaces. Modern Dining rooms are understated and uncomplicated, which makes them a statement space.
The ambiance for this space is crafted using subtle pendant lights or recessed lighting. The dining table is made of glass or metal, sometimes with polished wood, and paired with simple chairs. You can opt for Parsons, Mid-Century Modern, Extendable, or a Scandinavian-style table. To tie it all together, you can go for a dark colored wall or a patterned panel on the wall in this room. A modern dining room's overall look and feel are sleek and functional, creating a space that makes you stop and stare.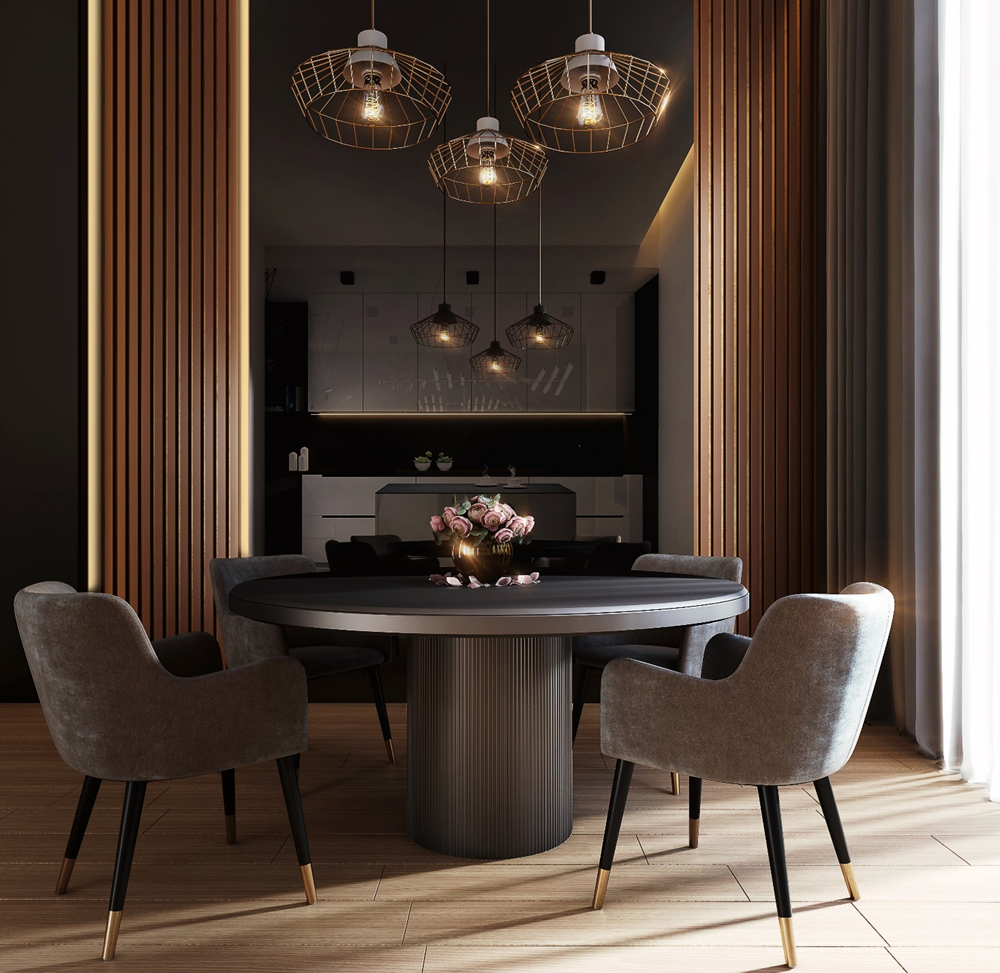 Design Qandy tip: When picking the upholstery for the chairs, opt for leather or other minimal fabrics with plain textures or simple lines and patterns, keeping it clean.
Rustic Dining Room
Rustic is a trend that will always be in vogue. A rustic dining room reminds you of a cozy cafe on a nature trail or a remote English town that doles out homemade food and a lot of love. This space is made with natural materials and sports a distressed or reclaimed look. The rustic is in being au naturel, so earthy colors are your safest bet. The dining table in a Rustic Dining Room should be made of wood with scruffy and unpolished edges. Go for a Parsons, Farmhouse, or a traditional table style. Pair them with browns and greens across the upholstery and the decor. Add a patterned table runner or placemats to make it warm and inviting. Opt for lanterns or minimal chandeliers to complete the rustic feel.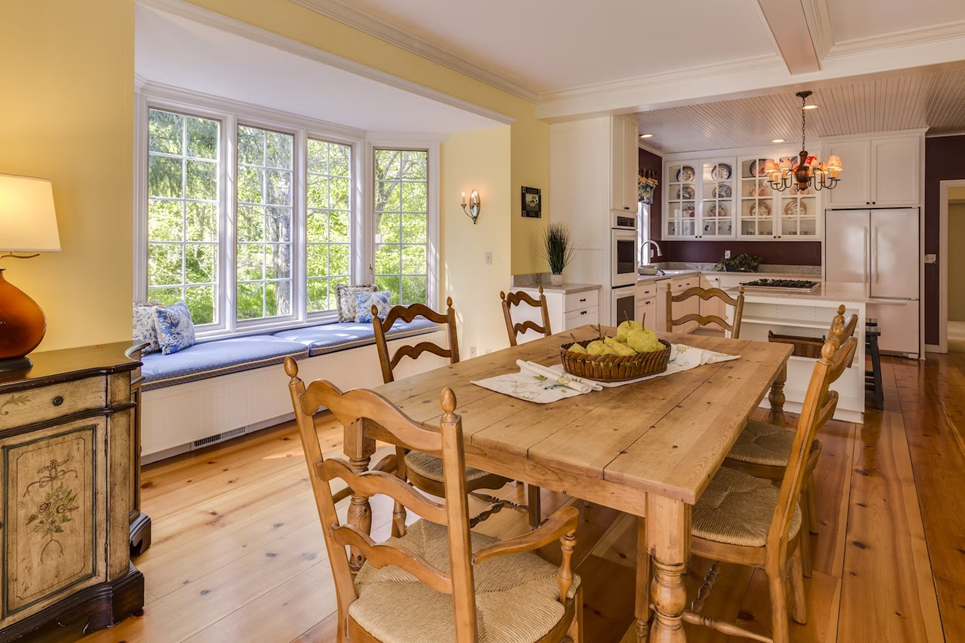 Design Qandy Tip: Go for wood or wrought iron when picking the chairs. Elevate the chairs using comfortable yet popping cushions.
Coastal Dining Room
Build a coastal dining room and have your beach vacation dreams just a room away. This room is light and airy, with water-related accents and decals. A minimal light-colored wood table or a white dining table would be the centerpiece, with white or light blue chairs. You can opt for a Pedestal, Mid-Century modern, Extendable, Round, or Parsons table style. Add nautical decor like anchors, ropes, seashells, starfishes, etc., to elevate the vibe. Curate your cutlery, tablemats, coasters, and other on-the-table elements to align with the beachy vibe. You can also go for light fixtures with ropes or lights shaped in beach-like elements. You can add some ferns to this space to make the coast come alive right in your living room.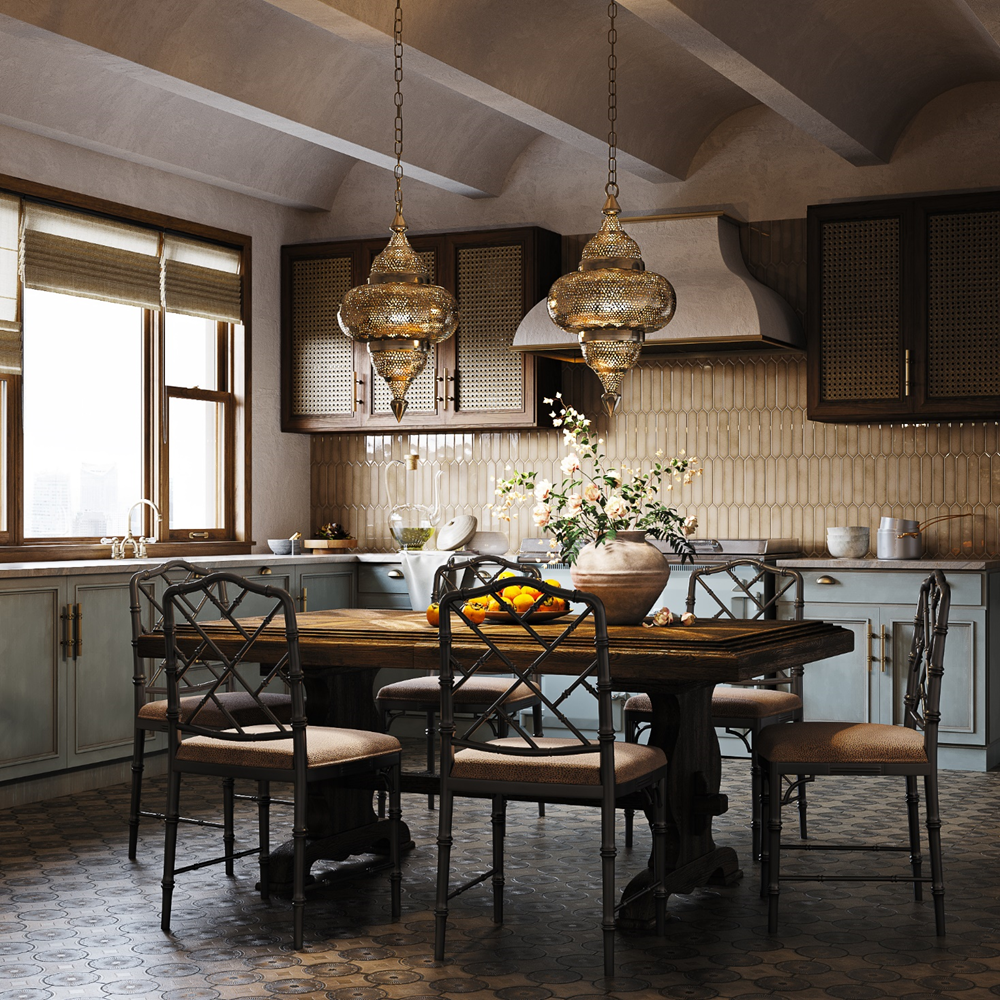 Design Qandy tip: The coastal vibe demands playful colors and natural lighting, so consider building this around windows. You can also add light fixtures that mimic natural light.
Industrial Dining Room
Industrial Dining Rooms are edgy, raw, and urban in all their senses. They're relatively utilitarian and made with both raw and polished materials. The design is no-nonsense and has a penchant for functionality over luxury. Metal or reclaimed wood are the go-to choices for dining tables paired with metal or leather chairs. You can also have a combination of metal and wood with mismatched chairs. Parsons, Industrial, or Scandinavian table styles are perfect for this space. The lighting fixtures should be functional and can be oversized light sources against exposed brick or cement walls.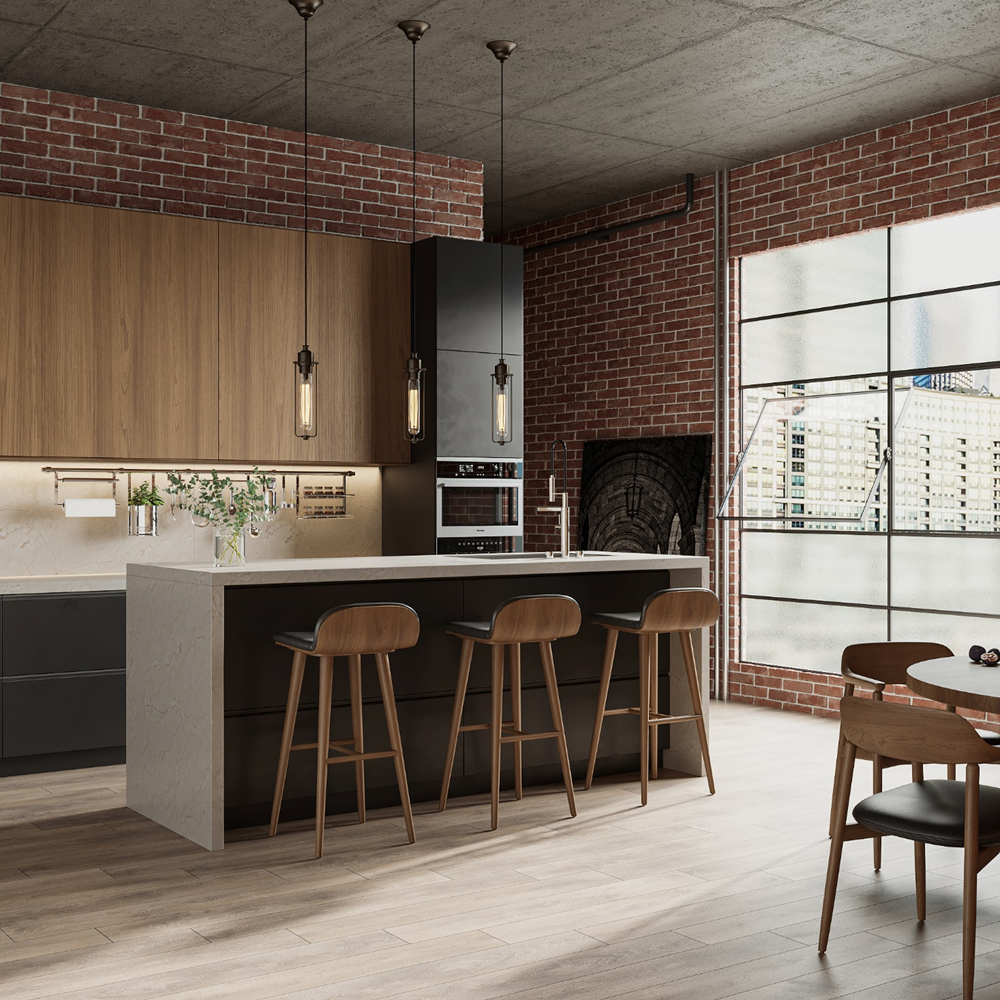 Design Qandy Tip: Opt for pendant lights or Edison bulbs to enhance the industrial vibes and complete the look.
Farmhouse Dining Room
The vibe and feel of a Farmhouse Dining Room is a cozy, vintage cottage that becomes a quick change of space amidst the drudgery of routine and monotonous days. A wood or wicker dining table that is distressed and weathered should be paired with a wooden or metal chair with vintage-style cushions. This room is perfect for Parsons, Farmhouse, or a traditional table style. Opt for patterns that are traditional and ornate. Cane backrests on wooden chairs also pair well in this room. Natural lighting through big windows or using lanterns and farmhouse chandeliers will tie this space together perfectly.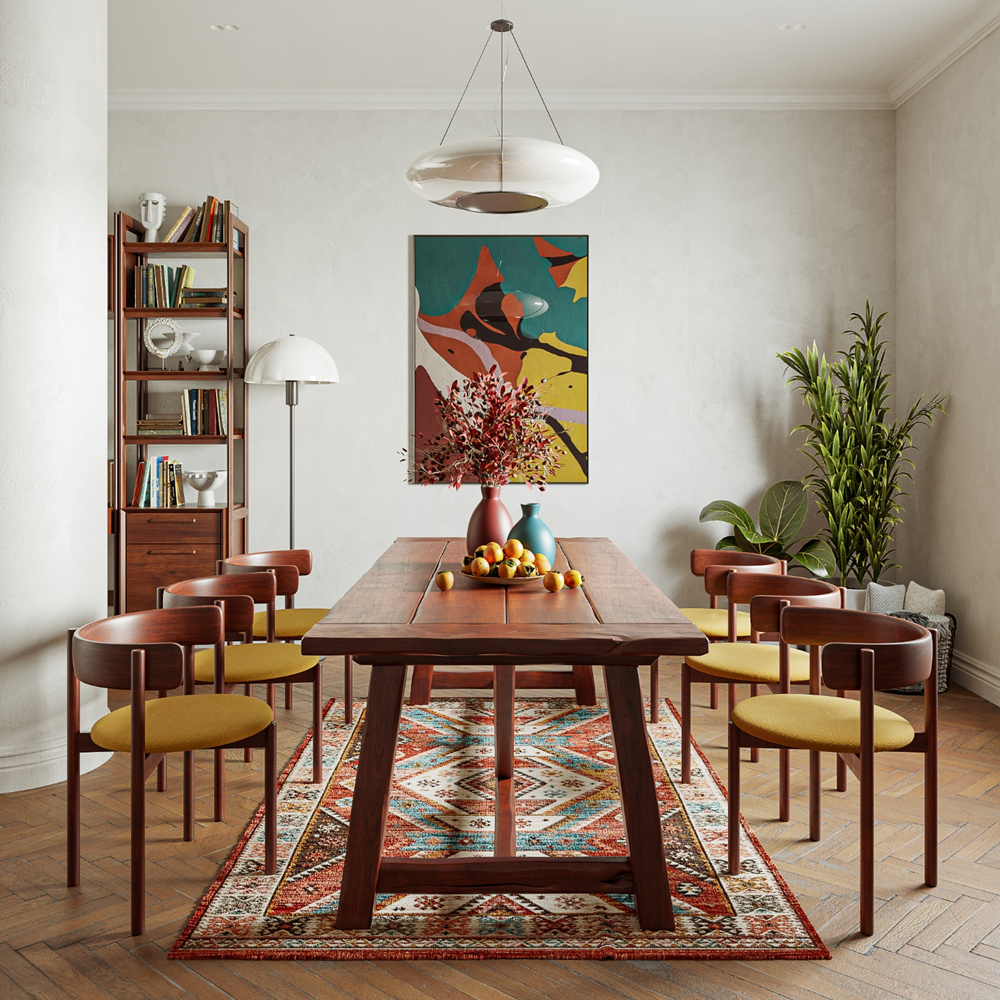 Design Qandy Tip: Add low-maintenance plants away from the table in the corners or fresh flowers on the table to elevate this room.
The dining room is a shared as well as an intimate space, so make it functional as well as welcoming. Consider the tone and style of the rest of your home alongside your preferences while picking the right dining room style and corresponding furniture for your home. The Design Qandy team is ready to help you identify your style. Take the DQ Style Test now!
So, if you love the feeling of home or a home away from home, pick a style for yourself between the traditional, modern, rustic, coastal, industrial, or farmhouse feel, or take elements from more than one to customize the dining room of your dreams.
Our team of internationally trained designers can help identify the right style and combination to suit your taste and create something truly special. Get started today!