Large, expansive rooms can be a challenge to handle, especially when you are decorating a new home. Our internationally qualified interior design team has put together these expert tips that will help you plan out the design for larger spaces. Whether you're moving into a new place with a large room or designing a new home with an open floor plan, these design tips will help.
Plan for Paths Through the Room
One of Design Qandy's predictions for 2022 is an increased focus on human-centered design. By focusing on specific goals and outcomes to enhance life in a space, human-centered design can improve the design of any home. Our technology-driven approach uses this approach to give our clients a beautiful, functional home, made through clear intentions.
One way to make a home more centered on people's needs is to have a thorough floor plan. By planning and accommodating foot traffic, you can control the flow of people and energy through a large room. While public buildings and event spaces can get away with velvet ropes or staff gesturing people along a route, a home needs a more natural approach.
Our design advice to make the most of large spaces is centered on controlling foot traffic. This is a fundamental technique of interior design. You will see paths and focal points as a feature of many other ways to effectively design large rooms.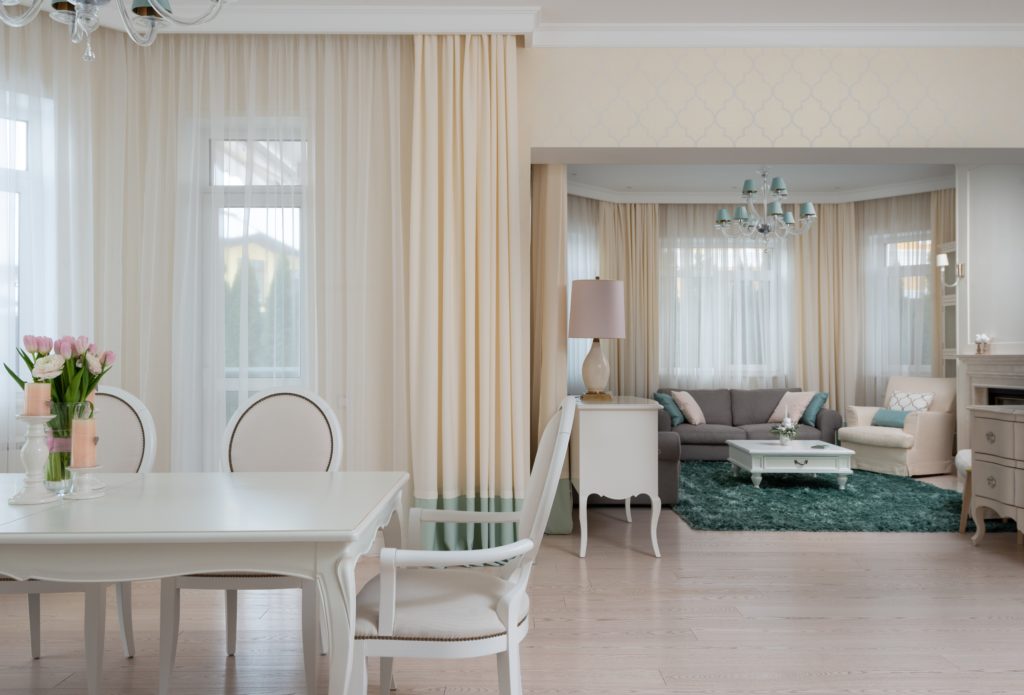 Visually Split Overwhelming Rooms
Sometimes a room is just too big – especially if you have multiple good ideas of what to use it for. Breaking up a large room with dividers or design techniques can maximise your space.
Decorative, freestanding screens are an elegant way to communicate a separate area, while curtains can provide more thorough privacy to people in each zone of the large room. But with proper planning, you could have a more functional area on either side.
Large bookcases can provide storage or customisable decoration on both sides of the divide. A row of tall houseplants or hanging plants makes a suitable divider while lending natural beauty to the room.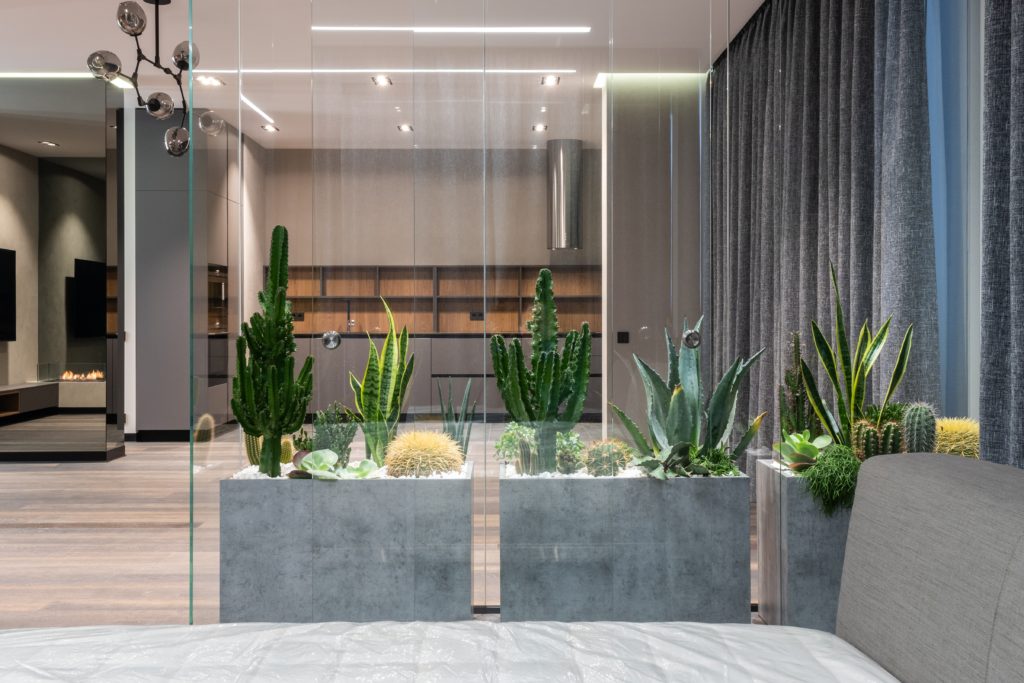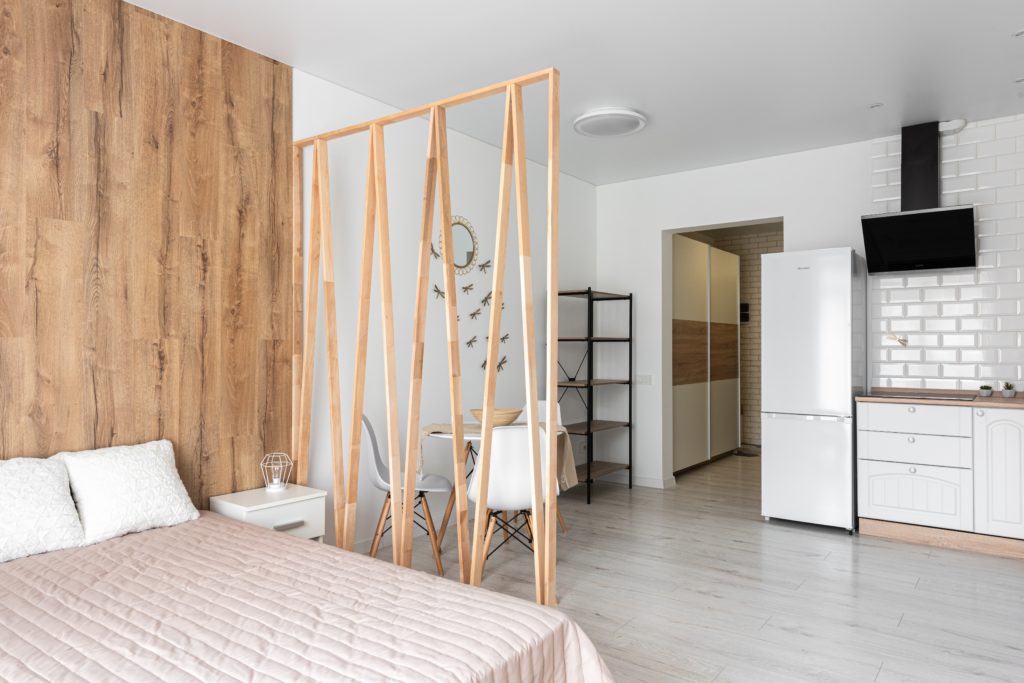 Create Visual Focal Points
Without a clear focal point in a large room the space will feel bigger and emptier. You can draw attention to part of a large room by using brighter colours or movement. Wall art, aquariums, and water features are all great options for pulling in focus. Make sure your focal point is easy to view from most seats in the room.
You can also create vertical eyelines to make rooms feel taller. A risk with expansive, boxy rooms is they can quickly feel like a warehouse if they are too minimal or have too much vacant wallspace. Vertical lines in wallpaper can pull eyes upwards, but tall bookcases or built-in shelving can also make a room feel taller.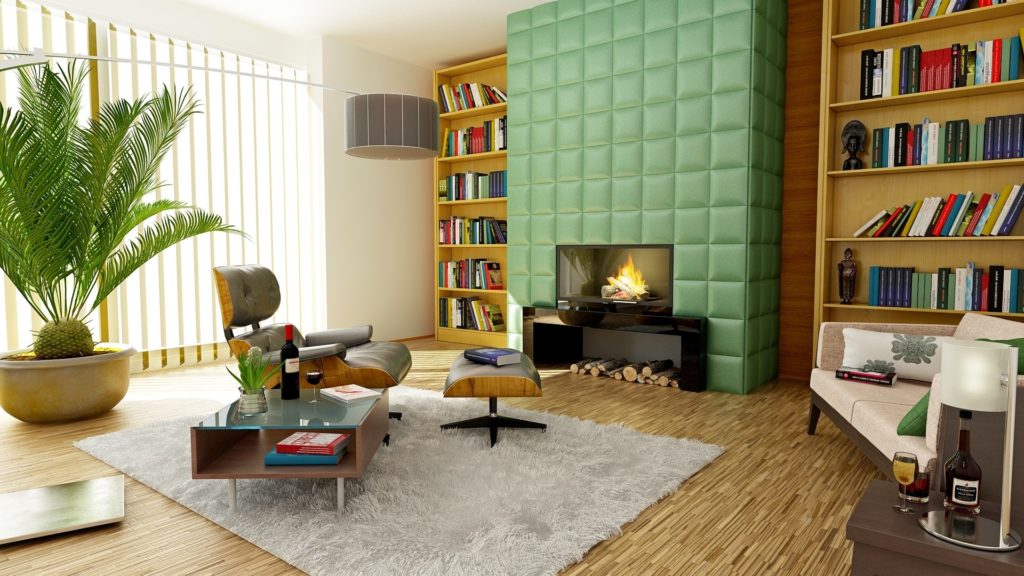 Add Enough Light Fixtures
A single light fixture can brighten small rooms like a bathroom or closet, but large spaces require better planning. A variety of lighting options provides flexibility for different moods, and they eliminate shadows in corners or under-served areas of a large space.
Add pendant lights or LED strips to complement standard can lights. If you have tall enough ceilings, a chandelier or other artistic hanging lights could elevate your interior design style. Table lamps and floor lamps are other great options for additional lighting that can mesh with any interior design style.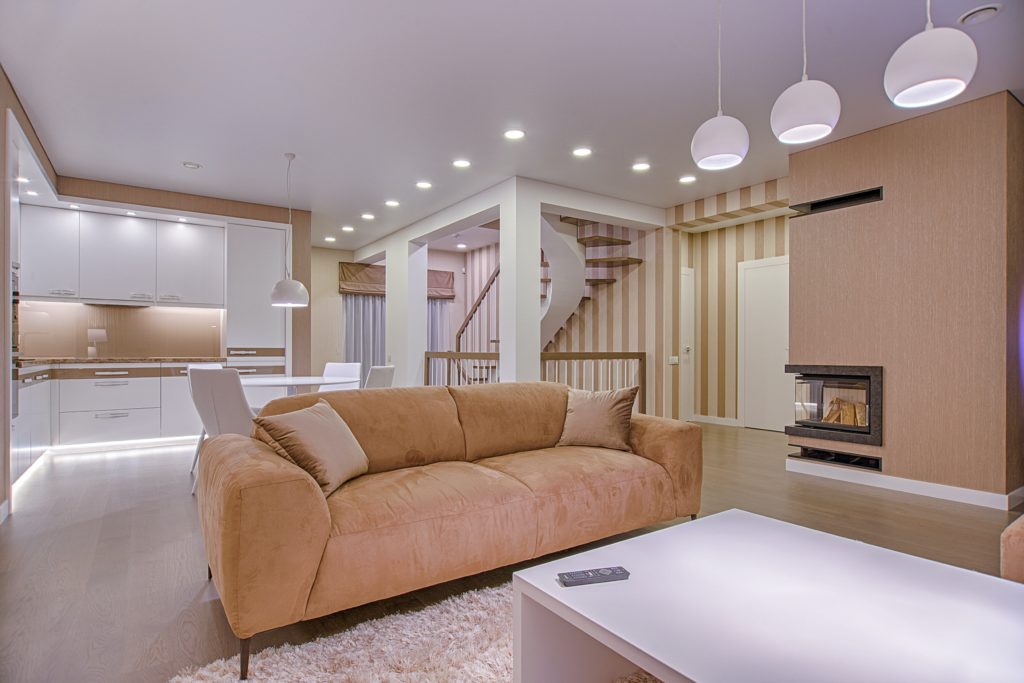 Get Creative With Flooring
Different flooring signals that parts of a room are for different uses. This interior design technique is also used in studio apartments and houses with open floor plans to separate zones.
A rug can turn a corner with chairs into a true sitting area, or a clean break in flooring can distinguish large zones. If you're designing a new home, there are opportunities to use flooring in exciting and interesting ways. Changing the direction of decorative tilework or wood planks is another simple way to divide a floor up.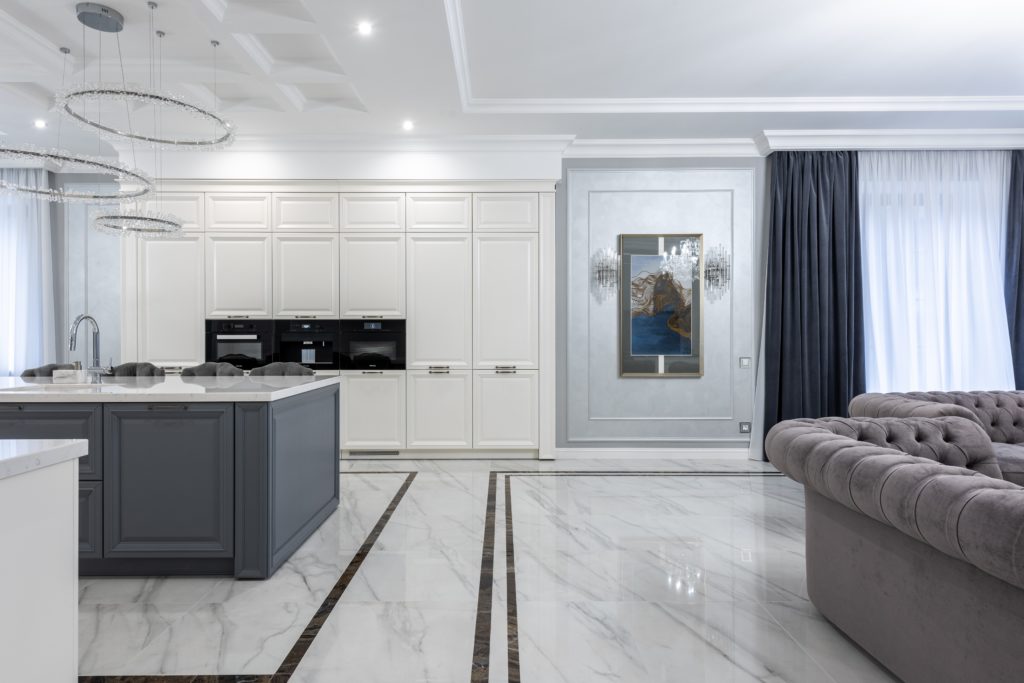 Think Big!
Big rooms require big thinking. If you have a blank wall staring you down or a large empty zone, get creative with it. Our designers love this particular challenge, because large empty areas are the perfect time to let your individual style shine.
Nature lovers could set up an indoor tree or install a cascading water feature. Art aficionados can choose a statue or sculpture at the room's centerpiece. Blank walls could be improved by large paintings, tapestries, or even mounted artifacts or souvenirs from your travels. The possibilities are truly endless.
Upgrade Your Ceiling
Decorate your walls and ceilings, to take advantage of all the available space. Go beyond flat wall decorations, and let your vertical designs take shape in interesting ways.
Hanging plants from the ceiling is an excellent way to liven up a room. Another option is to improve your ceilings with crown moulding for a three-dimensional coffered ceiling design. While beam ceilings and tray ceilings have been popular in recent years, single-sloped shed ceilings can open up a large room in a minimal, elegant way.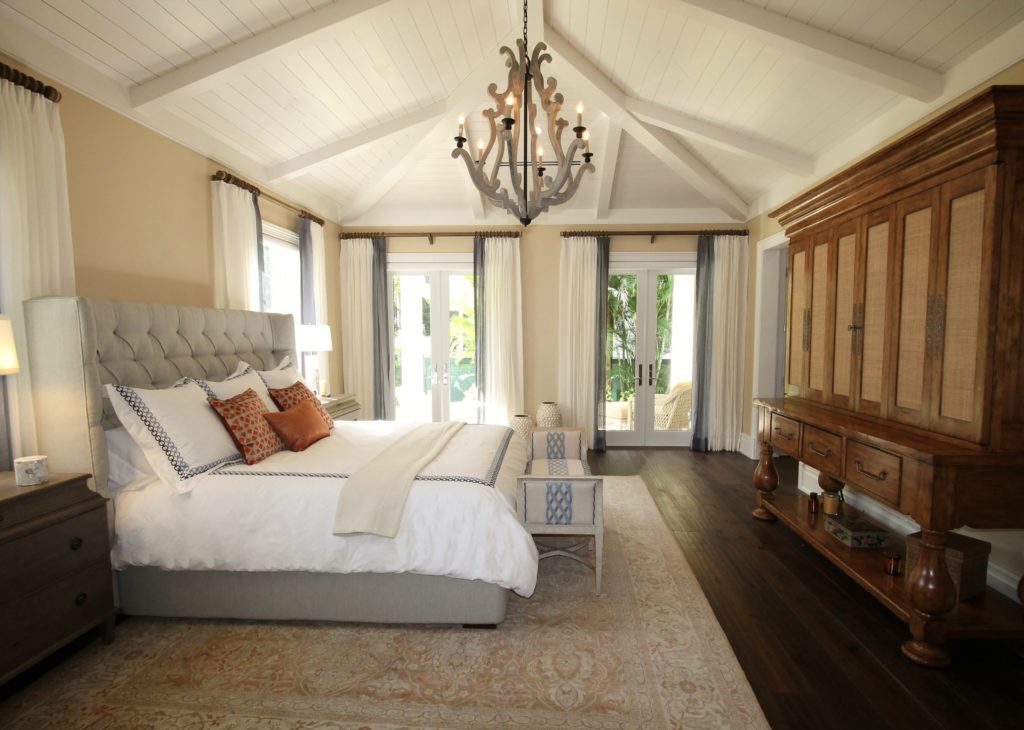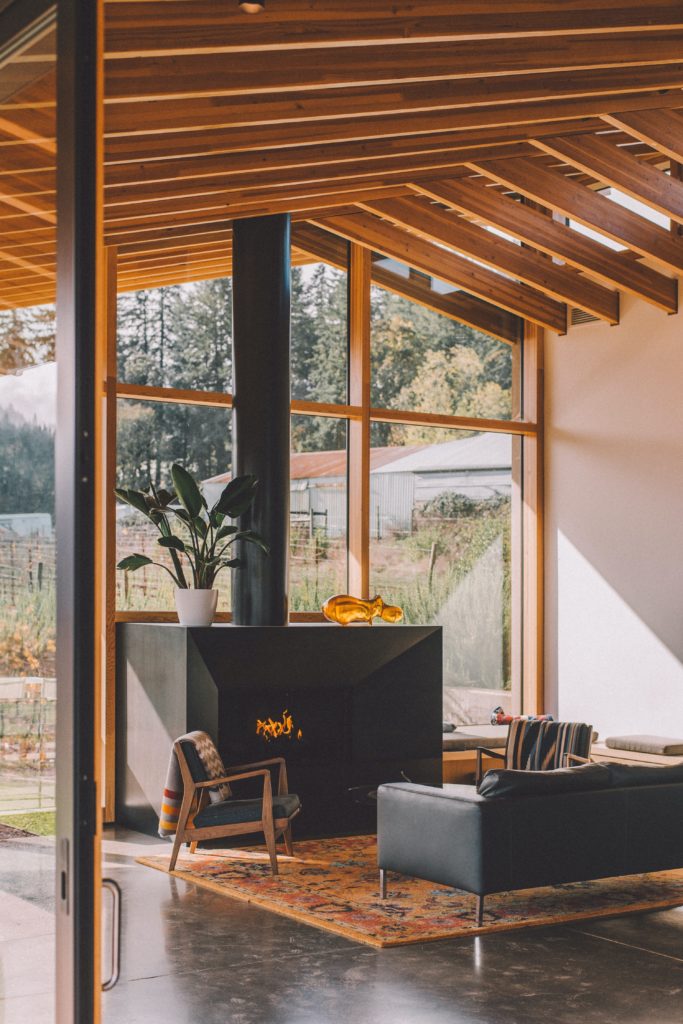 Divide and Conquer
The most important thing to remember is that you don't have to sit down and tackle the whole room in one attempt. And you don't need to do it alone.
Have a large room in need of decoration or remodelling? Contact Design Qandy today by calling +91-9619654321. Our internationally qualified designers are experts in the design styles of high society, and they work with only the best suppliers of premium furniture and home decor. The technology-driven design approach will make your home design journey an easy, enjoyable experience. We can design your home to be the envy of everyone who sees it.