Kitchen is the busiest and most used area of Indian homes. From morning bed tea to midnight ice cream craving, we always put our steps towards the kitchen to soothe the tummy. Let's beautify this crucial part of your home with lovely interior designs for kitchen. Whether you're looking for a modern design or a traditional one, you have a large collection of kitchen interior designs available to choose from.
But which one you'll have in your kitchen? It's the question that people usually have when there are too many choices. If you're one of those, this guide will help you with the best interior design ideas for kitchen. Design Qandy experts have listed our top picks in the guide for your review.
Wait! Before exploring our kitchen interior designs, let's see some things you must consider before making a choice.
Here you go!
How to Choose the Best Interior Design for Kitchen?
1. Functional Kitchen Designs:
Modern kitchens are a blend of various appliances and kitchenware. Everything has its functionality, but an improper design may create barriers. For instance, you may not prefer your kitchen design blocking the suction efficiency of the chimney. That's why we recommend choosing an interior design that improves functionality instead of creating barriers.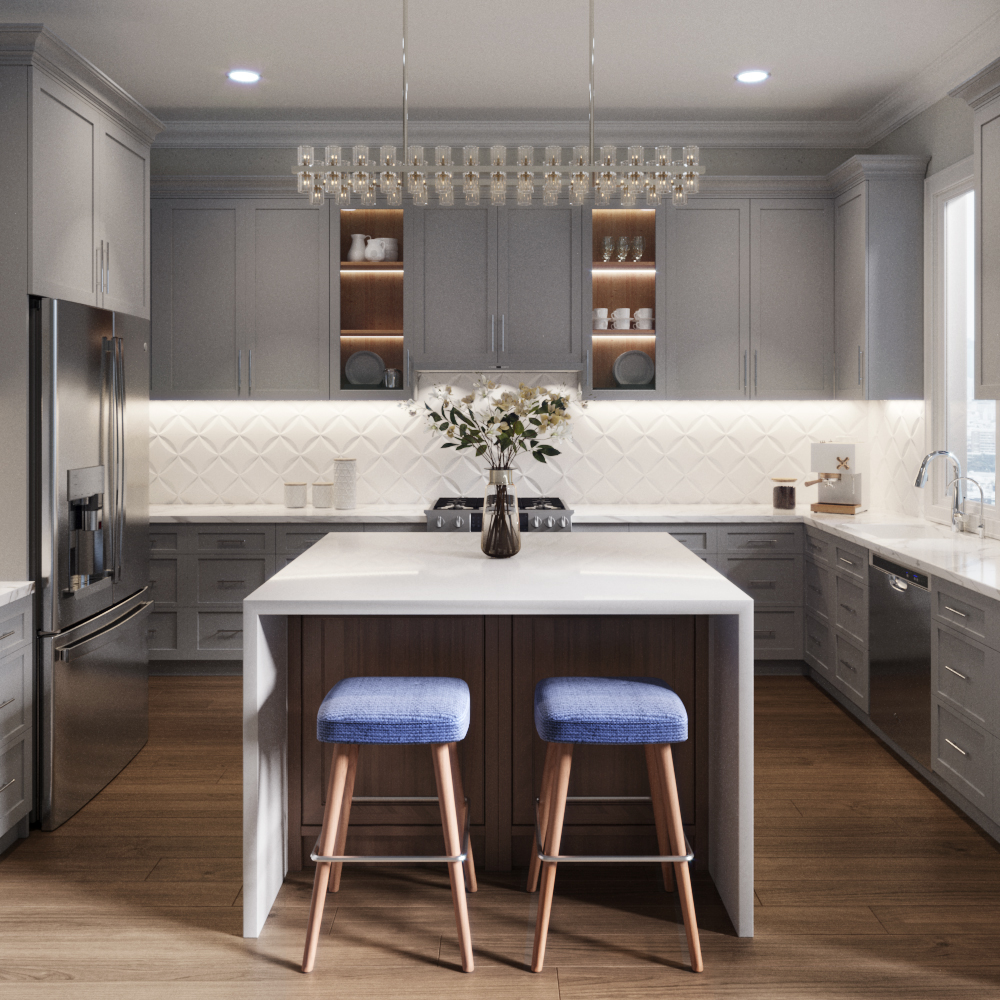 2. No Compromise with Hygiene:
Besides functionality, hygiene is crucial for a place at which you're cooking edibles. Here you should choose a kitchen interior design that is easy to clean for the best results. Also, make sure it doesn't include loose accessories or low-quality painting jobs.
3. Kitchen Designs with Extra Storage:
Modular kitchen designs are excellent for increasing the storage capacity. Whether you say racks or modular blocks, all the elements make your kitchen spacious than ever before. Just choose a design with multiple racks and dedicated dish slots for desired storage.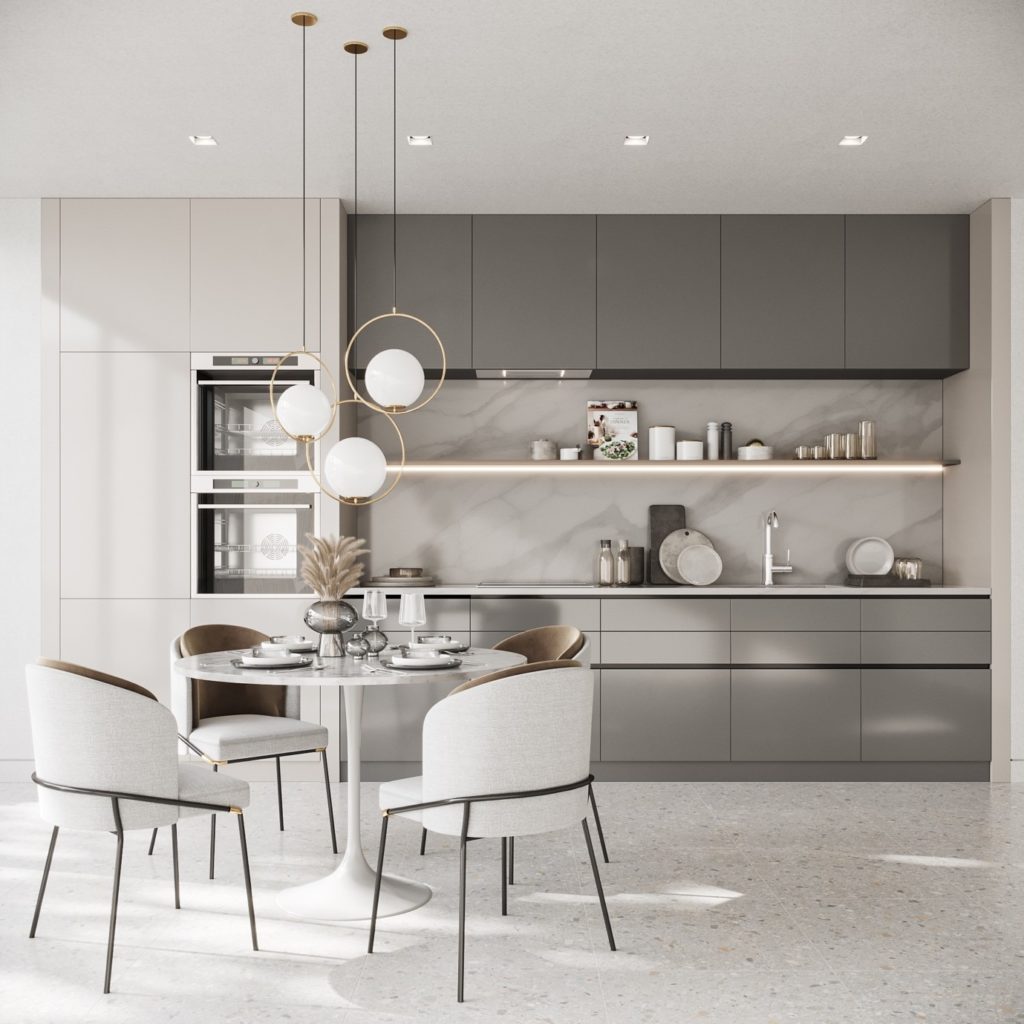 Best Indian-Style Kitchen Designs for Your Modern Home:
1. Color Pop:
Color pop is the new trendsetter interior design for modern kitchens. You'll love shiny cabinets colored with vivid and glossy color combinations. From blue to burgundy, there's a variety of colors that appeal in glossy finish for kitchen interior design.
The glossy cabinets look premium and easier to clean than wooden cabinets. If you're facing confusion in choosing a color combo, you can go with glossy yellow and matte black like in the picture below.
2. Open-Floor Plans:
A kitchen with an open-floor interior design is a perfect option for convenient serving and saving space. The borderless design helps you connect your living space and dining area with your kitchen. In this, you get an additional counter opposing the cooking area that makes you serve the food very conveniently.
Furthermore, we suggest using a similar color combination that blends in your home interior design.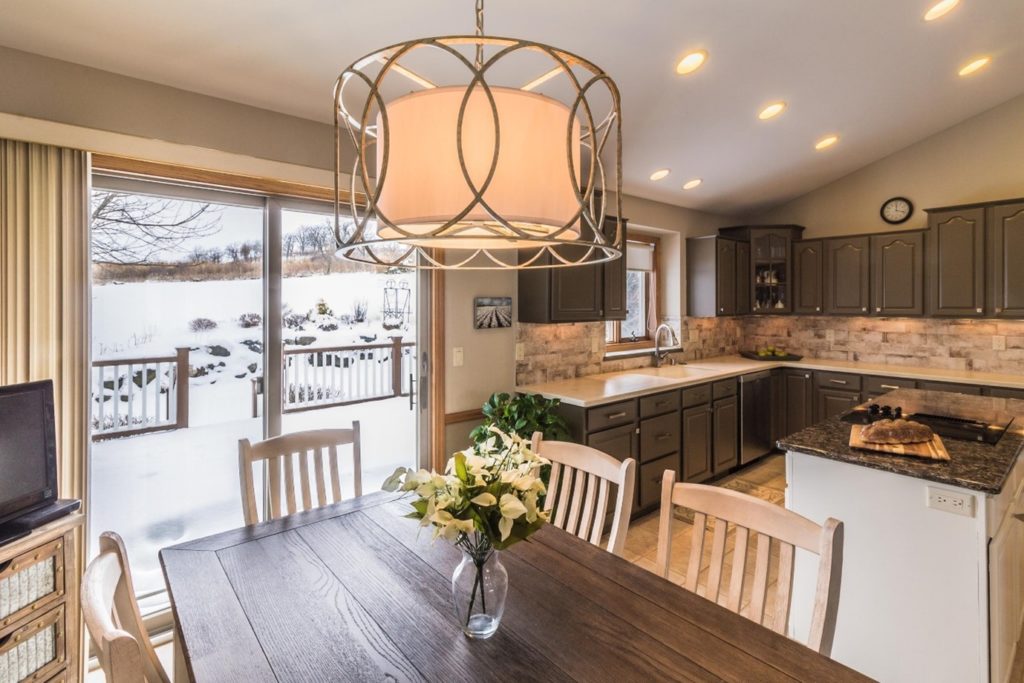 3. Naturally Lightened:
When it comes to cooking in a chilling winter, nothing is more lovely than the sunlight coming inside the kitchen. Airey colors concept features wall-sized windows made of glass to take you closer to nature. From monsoon rain to snowy winters, you can enjoy every weather from your kitchen.
If you've a garden or a balcony outside the kitchen, this interior design is the best choice for you.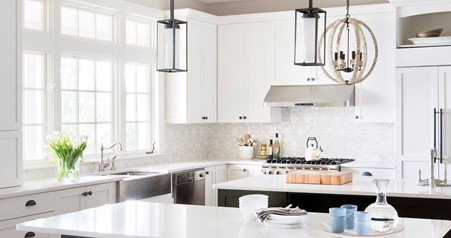 4. Vintage Wooden Patterns:
No doubt, glossy paints look premium and quite convenient to clean. But if you're looking for a lavish design, nothing can alternate a vintage wooden finish. The real-life wooden finish under the black granite symbolizes luxury and durability.
You can also create a combination of wooden patterns to grace-up your kitchen. For instance, dark brown finish below and a white wooden finish on the above racks.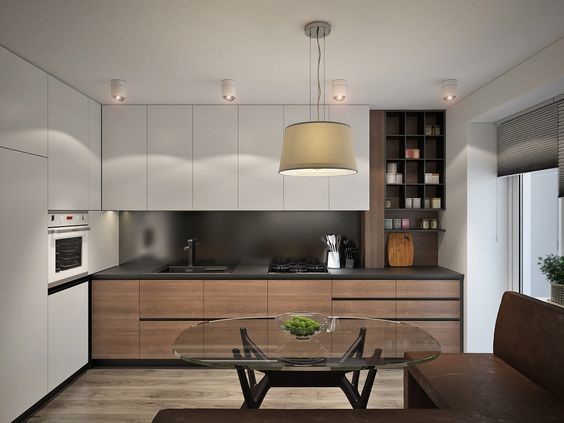 5. Trending White and Green Combo:
White and green combo holds top position of trending interior designs for kitchen in 2021. Beautiful matte green cabinets covered with off-white granite will surely win your heart while cooking. Besides this, it offers a mix of closed and glass shuttered cabinets.
This combination doubles up the grace of your kitchen while making it spacious for kitchen essentials.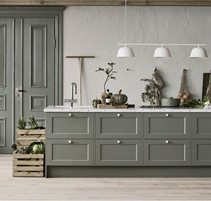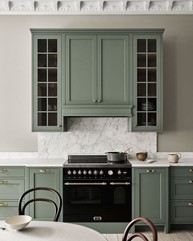 6. Whimsical Whites:
Too many colors? Let's switch to the peace and purity of white. Trends change with time, but white is a color that never goes out of fashion. Thus, you would love to have a pure white kitchen followed by some grey and black finishes.
Besides the looks, this kitchen interior design has various benefits too! White color is easier to clean and automatically brighten-up your kitchen.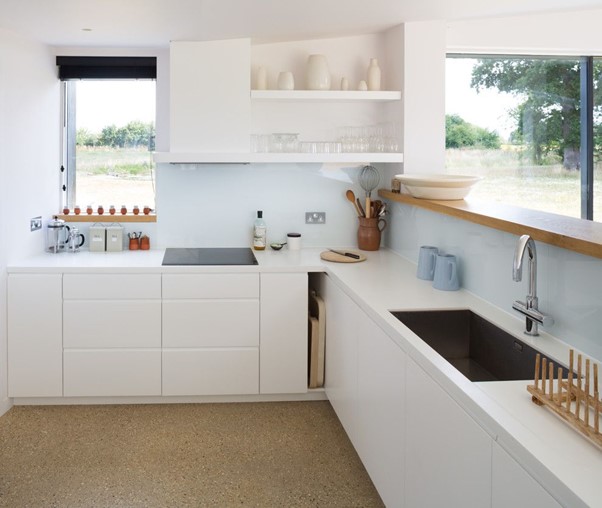 7. Backsplash:
Focusing on cabinets is important, but don't you think a plain painted backsplash will look boring? We know what's on your mind. It's time to decorate your kitchen with an exciting backsplash. From tiles to paint jobs, there're too many things to design your kitchen's interiors.
Just make sure the backsplash design and color combination match your Kitchen's interior design.
8. Extra Counter Space:
Interior designs for kitchens in India usually have spacious countertops. But you may struggle for space when you've too many guests in your home. How's about adding additional counter space? You can go for a kitchen design with extra counter space to increase the storage.
Along with the storage, it also looks quite impressive and makes serving convenient than ever before.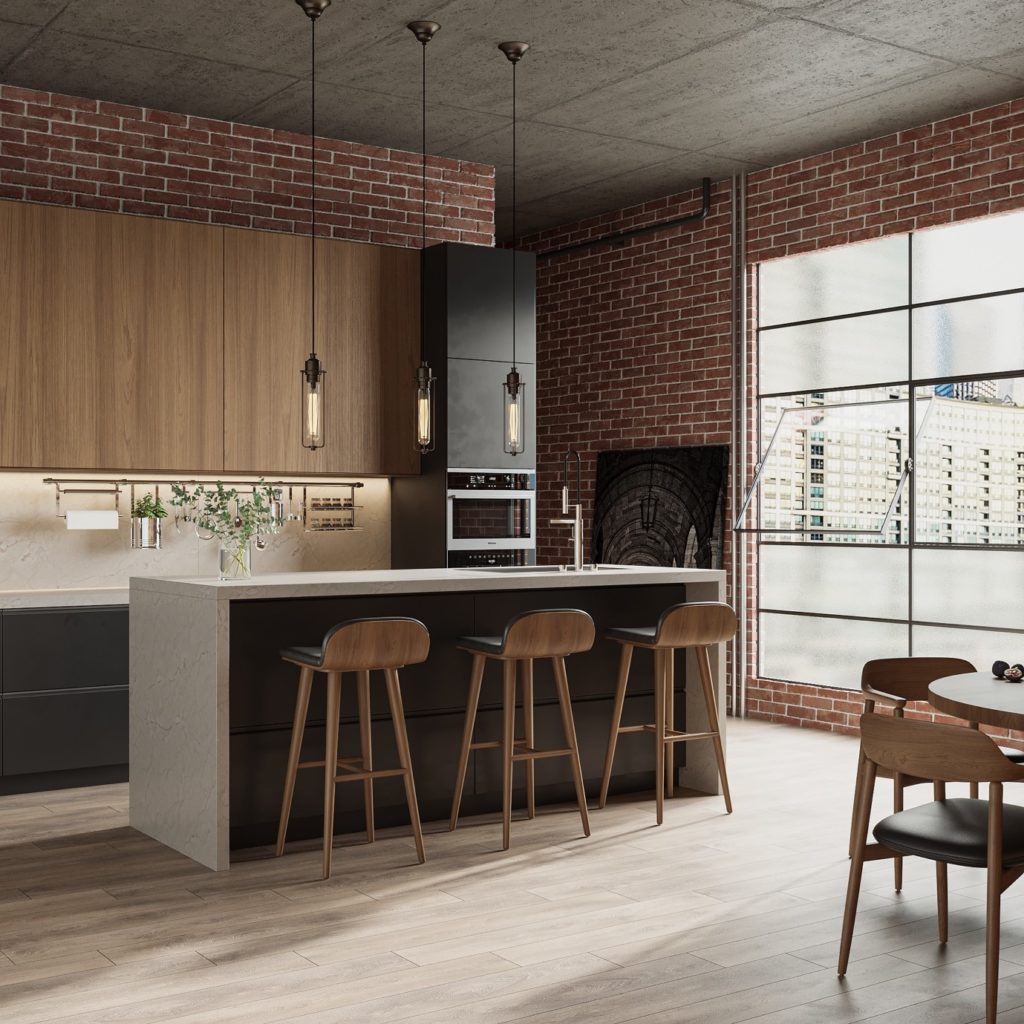 9. Classy Black & White:
From chess to dresses, black and white look classy everywhere. So it looks in the Indian-style kitchen interior design. In this, you can design your kitchen with matte black cabinets and off-white granite. A glossy black is also a great option, but the matte one looks more premium when covered with granite.
If you're planning a kitchen layout with an island, keep it pure white for a lavish black and white finish.
10. Farmhouse Chic:
Farmhouse chic is among the most popular interior designs for kitchens. Though it's an American kitchen design, the concept is also famous in India. You'll love its powder blue cabinets covered with icy white countertop and crockery racks.
Farmhouse chic comes with a C-shaped layout that offers extensive space while cooking and serving food.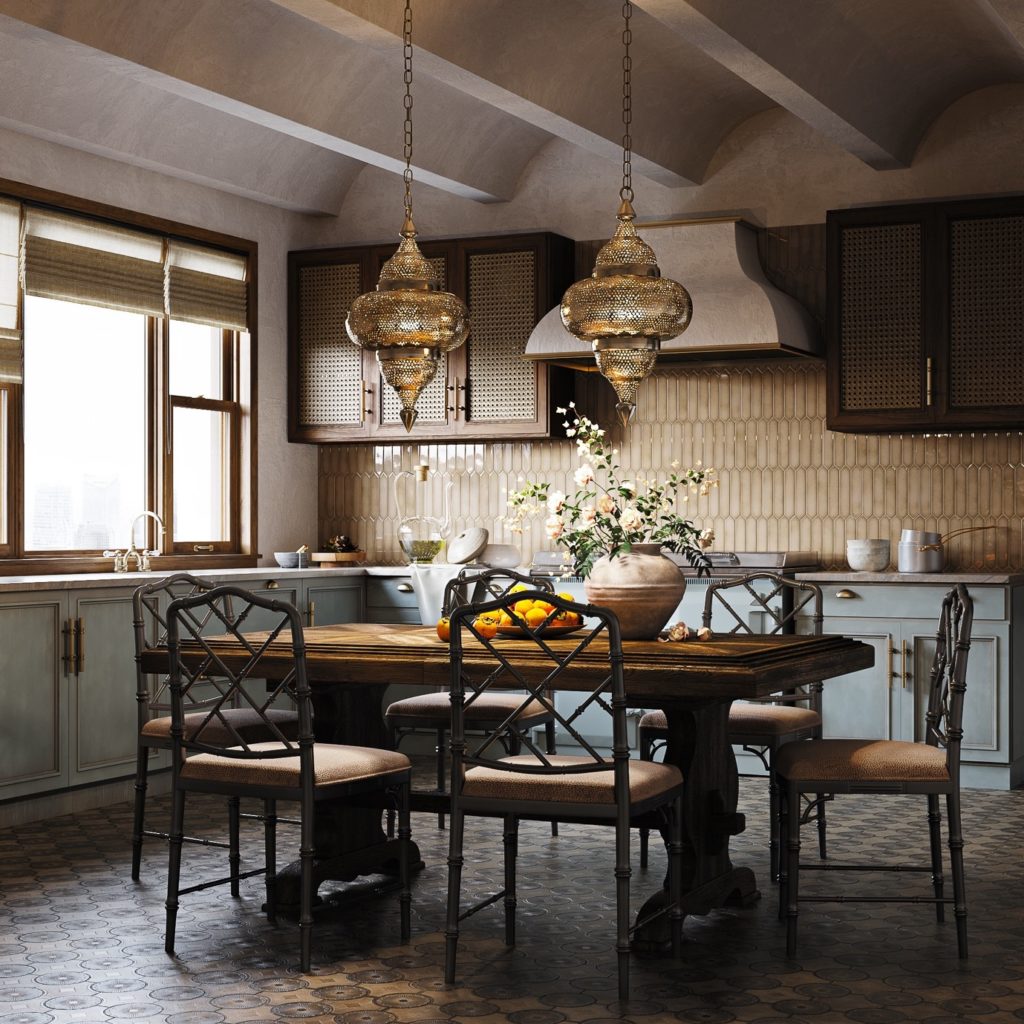 Expert Verdict:
Kitchen is the most crucial part of every Indian house. Yet, people do not give much attention to interior designs for kitchen. From lack of ideas or cost-saving, the reason could be anything, but a proper kitchen design is necessary to maintain your home's grace. You can beautify your home interiors by consulting the best interior designing company in Mumbai.
Design Qandy is emerging as the industry's most creative interior designing company in your city. If you're looking to embellish your kitchen, our company is the best place to end your research. No further ado! Call us now at +91-9619654321 to book an appointment with our Home Specialist. Also, you can visit this page (https://designqandy.com/#dqstyletest ) to know more about the Design Qandy Style Test.