We all know that color is a pretty tricky thing to get right. And many of us lack confidence when incorporating unusual color combinations and trends into our home interior design schemes. But long gone are those days!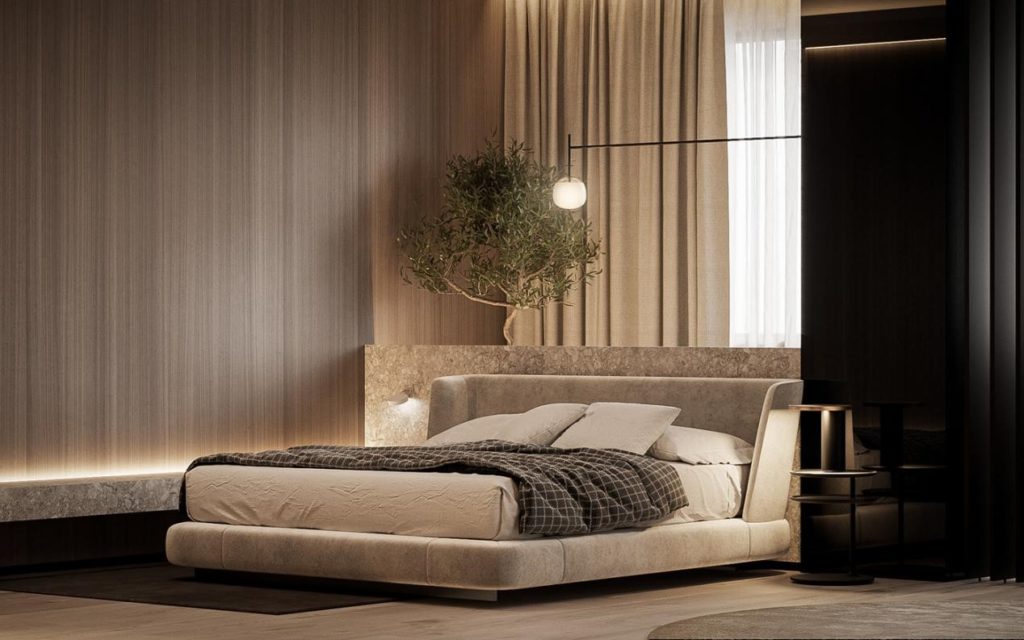 When speaking about interior design, the colors are those through which a house can get personality. Different colors reveal a distinctive persona and vibe to every individual. Interior design colors create diverse optical illusions and also have a strong influence on our psychological level.
Today people do not have only selected options to choose from when finalizing their color palette. Let us get a sneak peek into the 8 ultimate colors that you must consider for your humble home!
Scroll for more.…do not miss out on the last one!
As Pure As White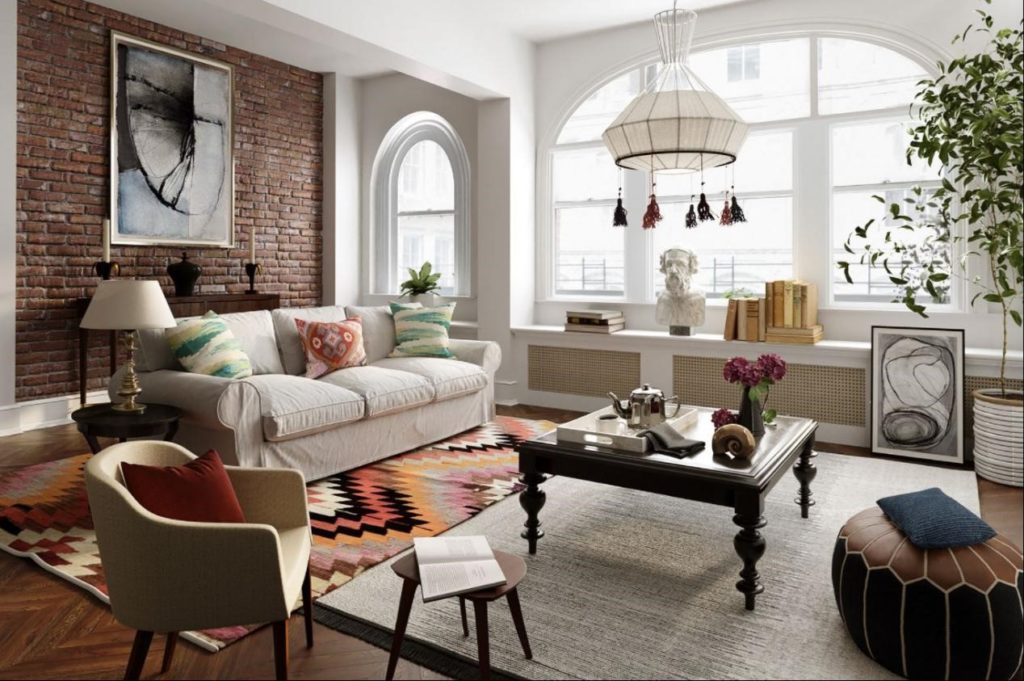 When it comes to top interior design color trends, white is that timeless classic color selection that you can blindly trust.
Pick out any color combination, accessory, wall design, or lighting – white has the power to highlight even the tiniest of details.
If you are someone who feels comfortable with all-white (or off-white) wall paint, then we have just the right ideas for you!
You can play around with diverse elements, like the decor, potted plants, the multicolored rug, a raw brick wall, or simply an all-white pristine-looking interior design for your home.
Go Green Like A Queen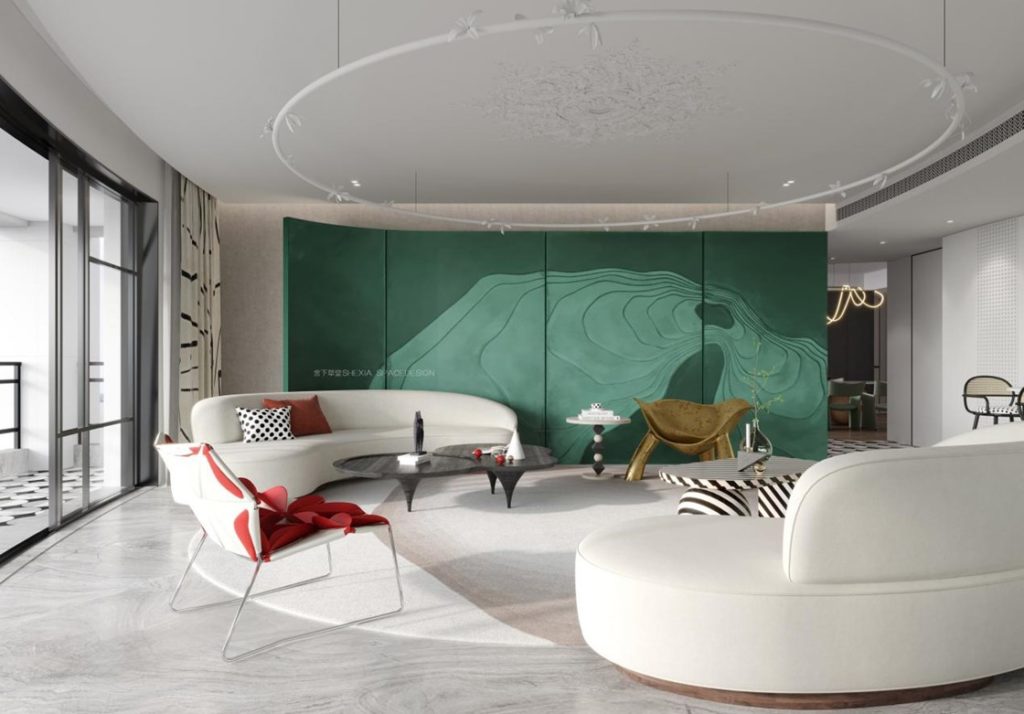 Another way to design your home is to let one wall sing out, leaving the rest of the room in neutral shades of white or beige.
The softness of the green palette sprinkled on the pure white room will undoubtedly make you remember small saplings blooming in the snow. The calm and peaceful aura in this living room will assuredly cheer you up.
Here we see a spacious and luxurious room showcasing green in the most elegant and genuine demeanour. Can something go wrong with a perfect blend of green and white?
Blue – The Pacifier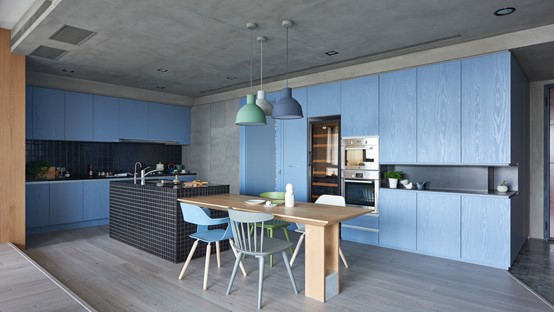 Blue is a pure healer when you use it in the right area. The deepness of this particular color is an honest depiction of the ocean.
Blue is ideal for spaces, like the bedrooms and kitchens, owing to its serene properties.
Additionally, you can also pair it with sombre colors like grey to strike a correct balance and raise the aesthetics of any room design.
You got it; you flaunt it!
Easy-Breezy Greys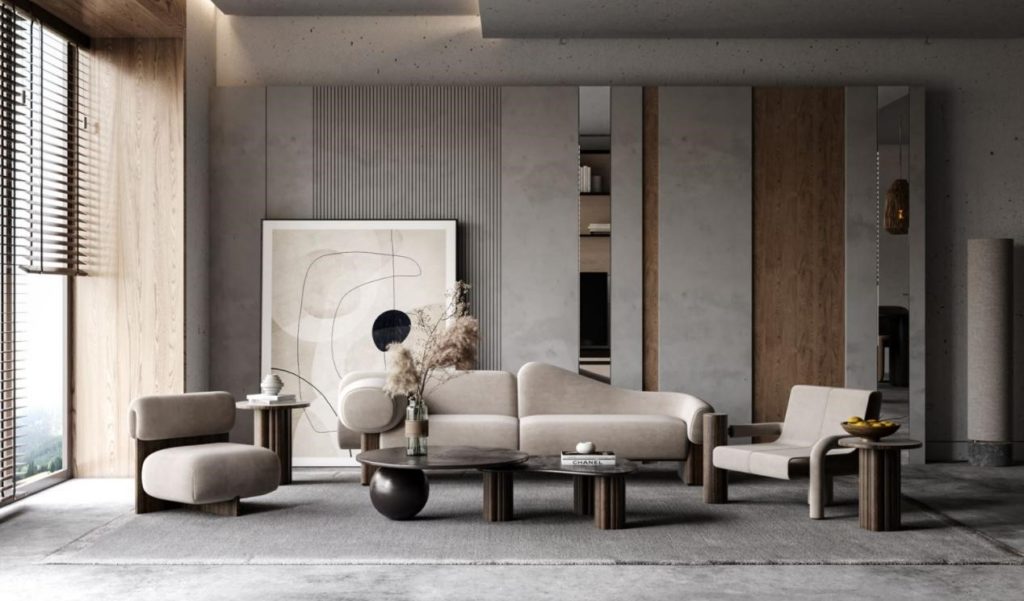 Hues of grey can go to any extent in your home interior design. It is not the color itself that speaks, but the overall charisma it creates stands out.
Grey is suitable for all the spaces in your home due to its subtle nature. It will immediately brush over your worries and tensions and set you at ease.
However, we need to be careful not to overdo this color in the interior design. Why so?
Because….although grey sounds very comfy, overuse of this color can indisputably dull the vibe of the complete area. So, always set it with a color that pops up or breaks the monotony.
Being Bold With Black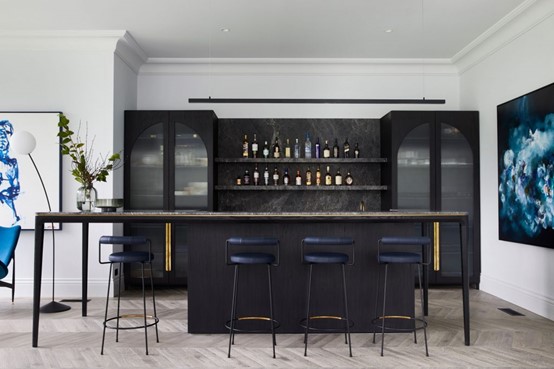 BLACK – yes, you read it right!
Keeping the wall paints to a neutral shade of white, off-white, or beige, you can successfully pull out a black color scheme into your beautiful home interior design.
Here again, something to remember is to add a tinge of other bright color combinations (like the blue wall art in the above design). This concept will most certainly add an oomph to the entire space.
Will you dare to try?
Back To Basics – Beige & Brown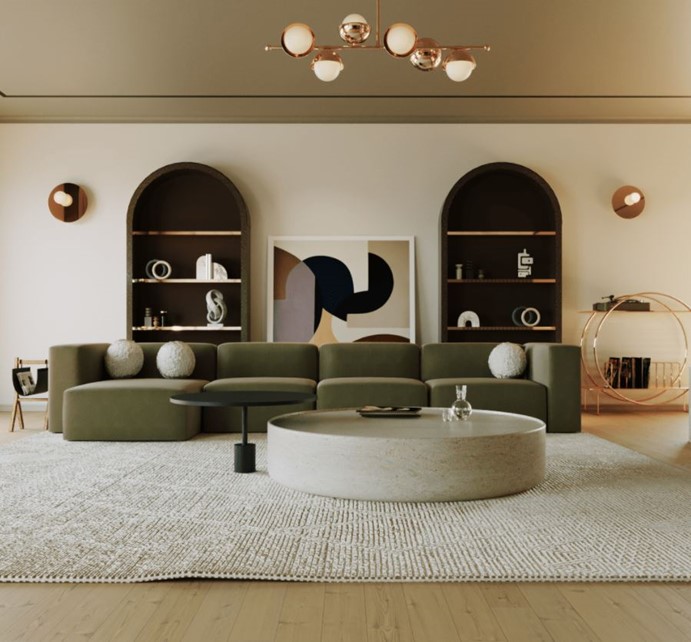 Beige and brown always bring out the earthy vibe, no matter whichever room we use them in.
The specialty of this color palette is that they match anything and everything. Also, even if you decide to use only beige and brown, both these colors can deftly pull off any design and any space.
You can, without a doubt, mix and match accessories, fabrics, and furniture. Like in the above design, we have a mehendi-green sofa and various elements in metallic golden – the whole design concept is simple, graceful, and WOW.
Dash Of Everything Nice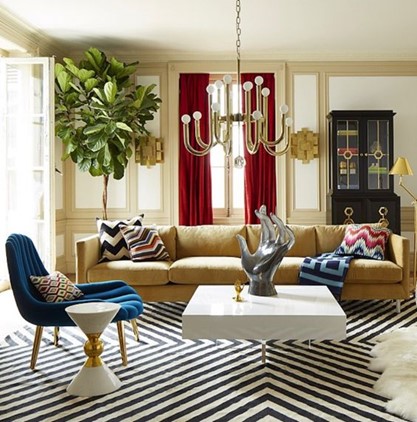 Another dhinchak idea is to fuse diverse color schemes and create an astonishing design of an area in your home that you want to brag about
You can achieve it by including distinctive elements in numerous color schemes while keeping the wall paints to a neutral color. OR you can go for fun, playful and colourful wall designs while keeping all the other elements in a monotone color scheme.
Your choice, our ideas, design, and execution – a brilliant merger if you ask!
Sprinkling Confetti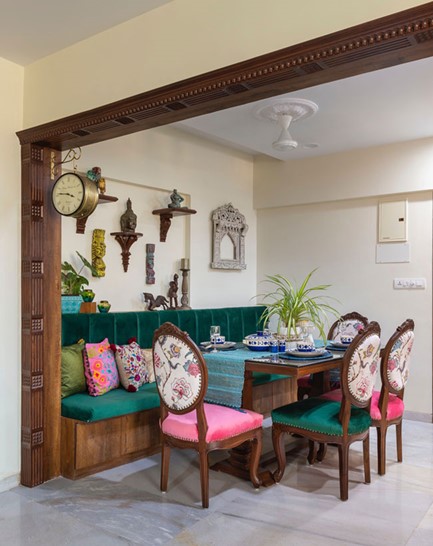 If you want a fancy color palette but want to take a more diluted approach, worry not because we have a savior here!
This cotton-candy kind color scheme is best for all those who want a slightly feminine and ethnic look and feel of a place.
In spite of the fact that we have multiple color combinations ongoing in the above-designed space, no color is overpowering or undermining each other.
The colors are flowing smoothly and are resonating an unruffled ambiance.
Summing Up
As seen above, every interior design color has a definite sense of balance and harmony. It is a universal belief that colors contain the powerful energies of nature, growth, and a desire to expand or increase.
So, let the colors fly and open yourself up to breathe in their positive impacts!
Design Qandy pledges to bring the latest interior design color schemes to you. Spin the color wheel and watch us create a mesmerizing color palette as per your ambitious wish!
PS – the accessories and lighting share an inseparable bond with the color scheme. So, whatever color palette you decide, choose the other two wisely for the greatest of results.
Now….what color speaks the most to you? Tell us in the comments below.
Also, DM us to know more about the interior design color trends for 2022.
Call us at +91-9619654321 and let our Home Specialist guide you on which colours will go best with your new home!